54 Barrels of Wine to Taste, 54 Barrels of Wine…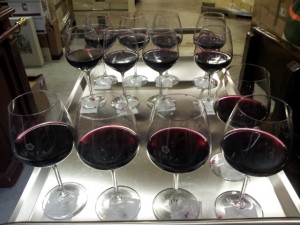 I had the pleasure of joining my favorite Cortona winery Leuta for a barrel tasting with award winning sommelier Luca Gardini (voted World's Best Sommelier in 2010), enologist Maurizio and of course owners Denis and Enzo.
This tasting was very important, they were here to taste 4 different varieties from 54 different barrels in order to select the very best barrel of each variety to blend for their top wine, Nautilus.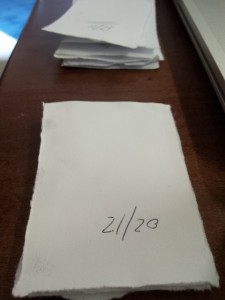 Each barrel was sampled into a glass and identified by a piece of paper with numbers that not only references the barrel but also corresponds to an intricately detailed spreadsheet that Denis keeps with every piece of information you could ever possibly want to know about the wine in each of the barrels, including their last tasting notes for that barrel.
Leuta very carefully handcrafts their wines and have refined exactly which combination of French barrels they like to use for each varietal.  I was able to taste first hand how different each barrel affects the varietal and gives it completely different flavor profiles. This is a very important process that goes into refining their wine and showing it the direction they want it to go.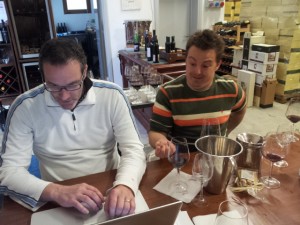 Swirl, Sniff, Sip, Spit, Dump.
Swirl, Sniff, Sip, Spit, Dump.
Denis, Luca, Maurizio and I taste quickly through each barrel sample as Enzo keeps them coming, all lined up on a cart next to the table.  Denis takes notes on his computer as Luca rattles off descriptors faster than I can even begin to understand.  It takes me a little bit to get used to his cadence but as I start to keep up I see why he's considered one of the best.
"Too young, smoky, remains a little bit behind, wet cardboard, to closed, closed wood, but I like this one very much, maybe keep another 3 months in wood, really nice, big, this one is good but too many tannins in the mouth, clean on the nose and stable, a little cassis, too much wood, seems like a pannetone  with candied orange, on the nose ripe fruit, a little tomato, too bitter at the end, concentrated fruit, definitely perfect for Nautilus."
..and it went on, and on, and on.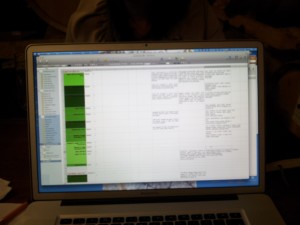 At the end it was easy to see, thanks to Denis's elaborate and meticulous spreadsheets, the evolving of the varietal and each barrel's particular nuances.
A fascinating process and a reminder to me that every part of the winemaking process is important to the end result.
Having tasted Nautilus, and absolutely love how complex, full bodied and flavored it is, I have a new appreciation for this very special, limited edition wine.