A visit to Antinori's Santa Cristina!
I had the rare opportunity today to visit one of the largest winemaking facilities I know of in the area, located here in Cortona just outside of San Lorenzo! The Antinori Santa Cristina facility.
This building has intrigued me for years. Built just after we moved here (finished in 2006), it sits quietly in the countryside off the main road going between Cortona and Montepulciano. The only reason you might notice it, besides the large entrance, is because there often are several semi-trucks waiting their turn to go in. Otherwise it is set back and hidden from the main road and really not all that intriguing unless you know what is there.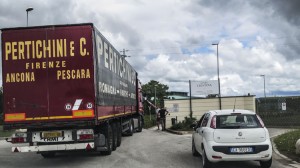 Today the gate was opened for us! Not only was I going to have the chance to visit this elusive giant of a winery, but I was going to be led by my friend and winemaker of nearby Antinori's La Braccesca winery, Lorenzo Dongarra!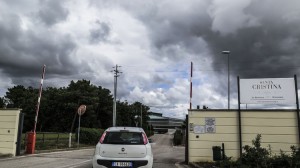 From the road the winery really isn't visible. As you drive in you begin to get the an idea of just how big this property is when you see signage, similar to signage for directions of cities, but directions for where to go on this property!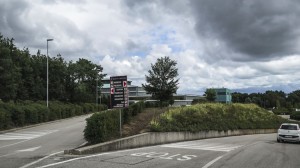 Getting closer you really start to get the perspective of road vs. building. With just offices standing out, most of the building is located under ground even though at this perspective you are at ground level. Being underground is a huge advantage for a winery as the earth helps keep a more constant low temperature consuming less energy.
The entrance is located at one end of the entire structure perfectly centered in between greenery/buidling on either side.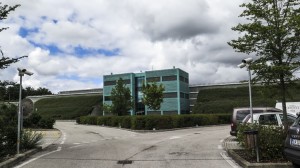 As you approach the entrance and small wine shop you begin to see that even this seemingly small part of the building is indeed still quite large!
When you first walk in there is a small wine shop that is open from daily to the public where you can purchase wines made at the Santa Cristina facility.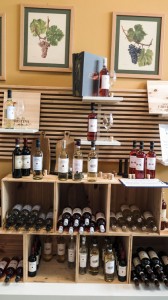 Santa Cristina sounds familiar because it is. I have seen it widely available all over the U.S. and even other parts of the world. They have been making Santa Cristina wines here since 1946.
The wines made here are Santa Cristina Toscana IGT Rosso, Santa Cristina Umbria IGT BIanco, Santa Cristina Toscana IGT Rosato, Santa Cristina Pinot Grigio Sicilia IGT, Santa Cristina Chianti Superiore DOCG, Le Maestrelle Toscana IGT Rosso, Campogrande Orvieto Classico DOC secco, Casasole Orvieto Classico DOC amabile, Cipresseto Toscana IGT Rosato, Capsula Viola Bianco Tavola, and Santa Cristina Vinsanto della Valdichiana as well as wines under the Villa Antinori label. Whew!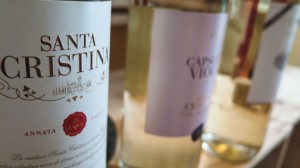 Obviously the Santa Cristina brand is the flagship here and proudly displayed in the wine shop!
Although my friend Lorenzo is the winemaker for another nearby large Antinori estate, La Braccesca, he didn't know as much about the Santa Cristina property as I would have thought. He explained to us that Antinori prefers the winemaker(s) at each estate to be independent, sharing knowledge and technology but encouraging their individuality so that each estate continues to keep its own uniqueness and specialties.
I've been dying to see this facility for some time. I tend to like the smaller boutique wineries but I've always been impressed with Antinori wines and they own quite a few estates around the world, many that you probably have heard of. At a base level even their least expensive wines are good and their premium wines are very good.
When I was told about the scale of this facility I was absolutely fascinated and knew I had to find a way to see it. It took a little time but after mentioning it to Lorenzo he was able to make it happen.
So I'll start with the crazy fact that the building is 4 hectares large. That is almost 10 acres, just for the building itself.
This is  a model of the property where we were able to see how the building is divided up. For privacy reasons we were only allowed to visit the Barriccaia – barrel aging room with is located on the lower right of the model taking up about 1/8th of the total building.
This facility also serves as a warehouse and labels and sends out products from other Antinori wineries including La Braccesca. Lorenzo explained that after he vintifies and ages all of his La Braccesca estate's wines from barrels to bottles, at the point they are ready to be sold they are brought over to Santa Cristina for labelling, packaging and eventually being shipped out.
The long upper hallway stretches down as far as you can see straight through the entire building. There are viewing balconies for each of the areas, although today we were only visiting one.
First door on the right! Pretty simple entrance for what I am about to see.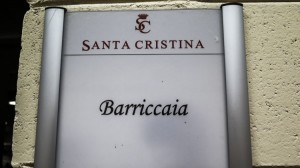 And, WOW! With over 8,000 barrels aging, this room literally takes your breath away.
Barrels and barrels and more barrels, stacked 5 high and in every direction.It smelled like sweet wet wood with a good deal of humidity.
Lorenzo was patient with all of our questions. From how many barrels (8,000 or so) to what type of oak (Hungarian, French & American) to how long they are aging (6-12 months) to how, what, why and where.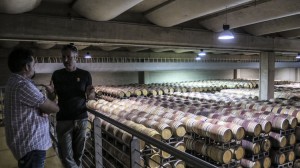 With this big of a production Santa Cristina grapes are also grown by other Antinori estates, including Lorenzo's La Braccesca. Estimating that this facility does over 1 million bottles a year, I can clearly see why!
There was activity going on below us and Lorenzo took a moment to greet a couple of the workmen that he knew.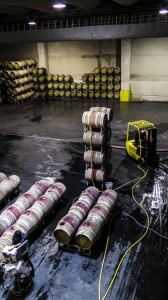 They were busy doing micro oxygenation to each of the barrels.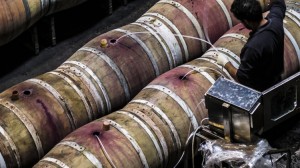 I won't get into what this means technically except to say that it is thought to improve the wine in ways that cannot be done by traditional aging. It was the first time I had ever seen it being done and here it was immediately followed by a topping off of the barrel.
It took three people to do the micro oxygenation, one to do the actual micro oxygenation to the barrel, the other to top off the barrel and the third to move the finished barrels by forklift to another part of the room.
All I could imagine was how many more barrels these men had to do! Probably when they get done with all of them they just have to begin again!
Many of these barrels come from other Antinori wineries that have used them for only a couple of years but a perfect resource for a winery not needing brand new barrels to age in.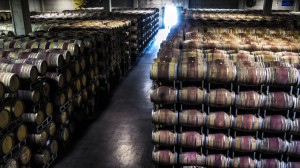 Wow, very impressive! Also impressive is the fact that this affordable line of wine from Antinori is actually barrel aged! My next task is to taste through each of the wines to get an idea how each of them are. I'll post my findings!
My guru and guide for the day, Lorenzo Dongarra, winemaker of La Braccesca (known for their EXTREMELY good wines!).  A big thank you Lorenzo for organizing this visit and taking time out of your busy schedule to show me this fascinating facility!