Attanasio Primitivo – a BIG wine from a little winery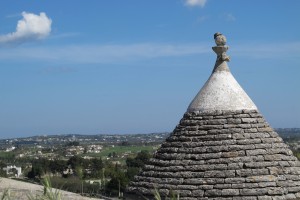 I recently visited Puglia for the first time.  Located down at the heel of Italy it is a magical land of rusty red earth, giant olive trees, Trulli and Primitivo wine.
Primitivo is said to be the older cousin of Zinfandel but interestingly enough, after actual DNA testing, they were found to both be clones of a Croatian grape called Crljenak.
It actually was a struggle to try to research wineries and schedule tastings in Puglia.  There seems to be either HUGE mass producing wineries or tiny little ones that don't come up easily in Google searches and are hard to find anything about, at least in English.  Thank goodness for Google translate and my Googling skills as I stumbled across this little winery, Attanasio, that just happened to be an amazing find AND making Primitivo like I was hoping to find, aged in oak barrels for a good amount of time.
Luca Anastasio was refreshingly very communicative via email and was more than happy to find time that worked for both of us.  His little cantina is located in the city of Manduria, in the heart of Puglia and was quite easy to find.  Luca met us and immediately took us in to see his barrel aging room and tell us all about his wine production.
The cantina was originally used by his grandfather who harvested olives and made lampada, oil for burning. Luca's father cultivated grape vines but only sold the production to the local cooperative.  Luca and his brother created the cantina 10 years ago when they decided to start using their grapes and making their own production.
The cantina is pristine, from the barrel aging room to the outdoor covered fermentation area.
The bottling area was immaculate even though they had just finished bottling earlier in the morning.
Attanasio only produces three wines.  All are Primitivo from vines anywhere from 50 – 80 years old.  They own all their own production which consists of about 8 hectares of land.  Not a lot when you consider that older vines produce a lot less.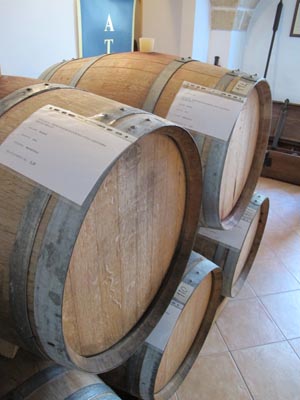 The vines are grown in the alberello (little tree) style of planting which trains the vine to grow straight up, like, well… a tree.  The base part/stalk is fairly short and closer to the ground which allows not only for closer planting but also works better in areas with little rainfall as the vine does not require as much water.
The aging of the wine is done stainless steel for 11 months, and 15 months in French oak barrels (20% new barrels, 40% barrels 3-4 years old, 40% barrels five years and older).  This is a very modern take on the old traditional way of making Primitivo in large clay vases.
Attanasio is the effort of the entire family, the father still helps out with production and both Luca, his brother and their wives, also work in the winery.  Luca's wife was trying to work away on the computer while Luca tasted us on their wines.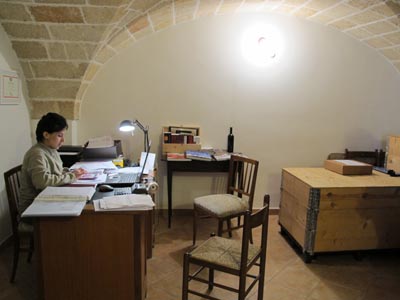 Here we go!  I was really excited to try not only old vine Primitivo but long aged in oak as well!!  Luca gave us our first taste, his Primitivo di Manduria D.O.P. 2009.
Talk about a fruit bomb!  But imagine an amazingly deep, juicy, exotically and herbal spicy, blueberry fruit bomb with tanins that go on forever and trust me, you never want it to stop!!  Deep dark cherries, dark chocolate and even a bit of leather. And oh, oh, oh…so much more!  Even more amazing is that this wine has an alcohol content of 16%!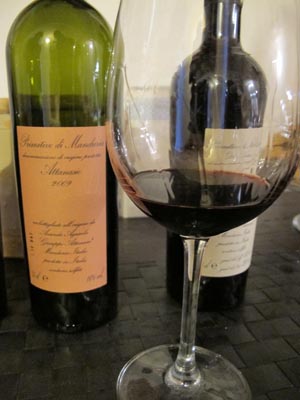 Wow.  I mean WOW! I already had tasted some other Primitivos during our stay but this blew everything I had tried out of the park.  I truly just wanted to just sit and worship this glass, and lick every last little drop out of it, it really was that good!  Or officially "yummy", as I like to say.
Luca was patient with us and waited for us to slowly sip his Primitivo while mulling over all the different flavors it kept giving up.  I wasn't going to let one single drop go to waste!
Next Luca tried us on his Primitivo Dolce Naturale D.O.P. 2008.  This is literally a naturally sweet wine, the grapes are picked a little later than his normal Primitivo and it is aged in stainless steel for 24 months before being bottled.  Again, tons of fruit and tanins and not overly sweet but still sweeter than his regular Primitivo. Traditionally this wine is paired with mandorla cookies that have cherry marmalade in the center.  A very tasty combination.  This wine would go well with something salty and strong, like blue cheese.
Last but not least we tried the Primitivo di Manduria Dolce Naturale 2007 Passito.  Again, Primitivo but harvested late, in the beginning of October and then left out to dry overnight.  It then is put into a dry room where the grapes stay for about 14 days as water slowly evaporates out of the grapes. The result is a rich, extracted wine very similar to a port but with more body and jammy flavors.  Another two thumbs up!
Luca was incredibly down to earth and very humble about their production. Attanasio only produces 12,000 bottles a year, but what wonderful hand-crafted wines that I am so happy to have discovered and now have in my collection!  I am very proud of this small family producing such high quality wines.
Grazie tanto Luca e Alessandro e tanti complimenti!!!!