Baracchi and Comanchero Tasting Dinner Recap
Friday evening in Cortona there was a wonderful collaboration between Baracchi Winery and Ristorante Il Comanchero, located just outside of the walls of the Cortona on the hillside with beautiful views of the Val di Chiana.
Guests were greeted with a glass of Baracchi sparkling wine and this blogging diva was encouraged by Benedetto Baracchi to help open one of the bottles in a very traditional way using a sciabola (sword).
Benedetto showed me how to use the seam of the bottle and with a very smooth motion push out with the sword to the lip of the bottle.  Voila!
It was much easier than I thought it would be.  Maybe I should practice some more?!  For now I'll enjoy my prize!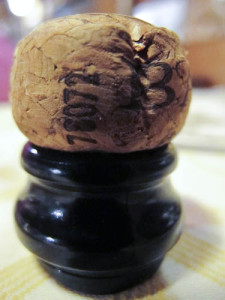 Brut Trebbiano Millesimato – Made from Trebbiano grapes, very nice, dry, caramel on the nose, hints of apple, In the mouth pear, pineapple, very slight fruits but a crisp and dry sparkling wine.  A lovely dry and perfectly bubbly accompaniment to just about anything!
There were a very nice array of appetizers served buffet style which all went quite nicely with the wine.
Each place setting had a little menu of all of the courses which I find extremely helpful when I blog about it a day or two later!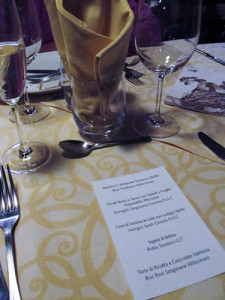 We were literally rubbing shoulders with Riccardo Baracchi, owner of Baracchi wines, who was seated at the next table.  He just happens to know one of our good friends and fellow diner Chuck  and kept us informed and entertained throughout the night.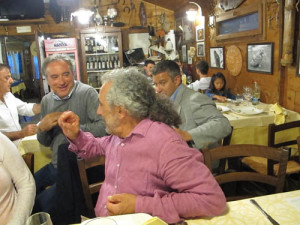 Smeriglio Sangiovese Cortona D.O.C. 2011 – Comes from vines that are 14-15 years old and are open barrel fermented.  Made of 100% Sangiovese, ages for 12 months in oak barrels 50% used/new. On the nose herbal qualities, deep red berries, slight caramel. In the mouth bright red raspberry, slight eucalyptus, dried cranberry, and dark bitter chocolate. Served with two different pastas, the first was Pappardelle with a wild hare sauce…
…the second was gnudi with butter, sage, truffle and scallions.
I couldn't help but notice when Chuck found out that something was missing from his glass!  Never a dull night at a wine tasting dinner with this group!
Smeriglio Syrah Cortona D.O.C. 2011 – Spends 10-11 months in oak, 1/2 of the grapes come from a 9 year-old vineyard, the other half from a 14 year-old vineyard, 1/2 new, 1/2 used barrels, 100% syrah, a great vintage for them. On the nose: Asphalt, slight blueberry, meat. In the mouth caramel flavors, light blackberry, blueberry sweet dark chocolate, a little tobacco. Served with rack of milk veal with stuffed scallions.
By this point, I have to honestly tell you I was so stuffed.  The food was amazing and I should have paced myself but I truly didn't think I could possibly eat one more thing.
And then they brought out the next wine/course.
Ardito Toscana I.G.T. 2009 – 50% Syrah, 50% Cabernet.  Spends 20 months in new oak, the grapes are blended after fermentation and age together. From the best selection of the vineyards. On the nose, barnyard, dried fruits, dried herbs and pencil lead. In the mouth blueberry, tannic, cocoa, dark berries, really nice, well rounded, big but fruity. Yum, yum!  Served with this amazing suckling pork dish that was so rich and delicious I almost passed out and completely forgot to take a picture of it.
They truly saved the best for last.  I try to keep it a secret, but I REALLY adore this wine. I don't get to drink it often enough and when I do I truly covet the whole bottle just for myself…
Brut Rose Sangiovese Millesima 2011, Sboccatura 2013 –Fabulous, dry, slightly slightly fruity, just slightly rosé. Absolutely divine.
Served with a cake made from ricotta cheese drizzled with Valrhona dark chocolate.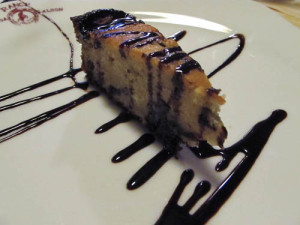 As I was trying to do a self-portrait with just me and my beloved wine, Benedetto Baracchi crashed my photo.  Not only did it make for a cuter photo opp. but he also brought more wine! Win, win!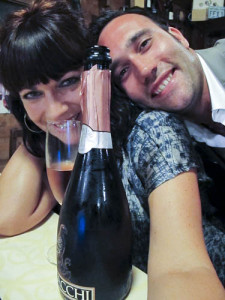 Chuck thinks Baracchi Brut Rosé Sangiovese gives you wings.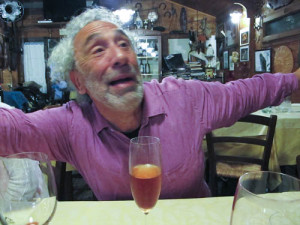 Ahhhh…my muse.  I think I must taste you over and over again to fully appreciate you!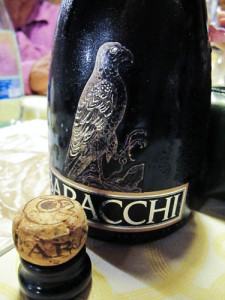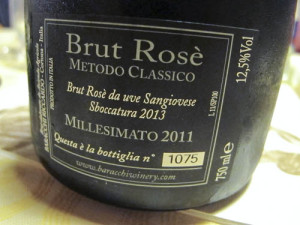 Because all of the wine we had just imbibed wasn't enough, Franco, owner of Il Comanchero, pulled out the big guns.  You know, the shotgun full of grappa.  Notice the cups in his holster?  Very convenient for an Italian cowboy.
And behind the scenes at a wine dinner, what really happens!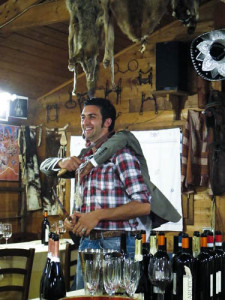 What a great night.  A BIG thank you, complimenti to Baracchi Winery and Il Comanchero Ristorante for putting together such a great, decadent pairing.  Thank you especially to Riccardo and Benedetto for talking the time to explain in detail each wine!
I leave you with one last image, I like to call this one "The Boys of Summer"…