Baracchi Happy Happening Sparkling Cocktail Party was a hit!
Sunday evening Il Falconiere hosted a "Sparkling Cocktail Party & Live Dj Set" at their gorgeous Relais & Chateaux property nestled in the hills just below Cortona.  I had been invited by my good friend Sebastian of Del Brenna Jewellery who was also there with his beautiful artisan jewelry helping sponsor the event.
It was a perfect evening for an outdoor event and the Falconiere property is an amazing place to watch the sun slowly set over the Val di Chiana.

The cocktail party was set up poolside and there were many tempting appetizers displayed quite artistically.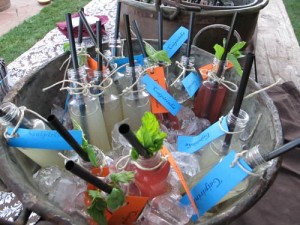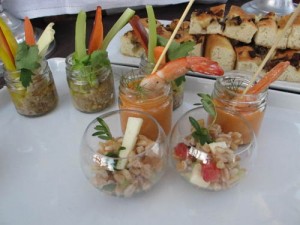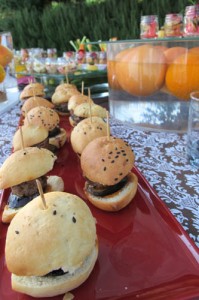 Not a bad place at all to sip cocktails, snack on appetizers, listen to music and chat with friends.
The staff was constantly refreshing the appetizers and even making fritto (deep fried veggies) on the spot.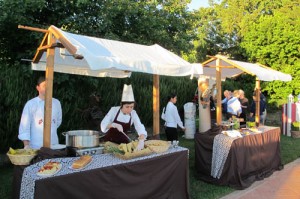 Most importantly there was a outdoor bar offering not only Baracchi wines but also an array of summer cocktails!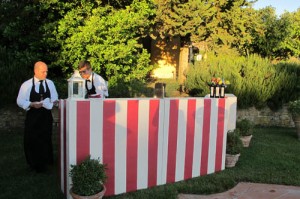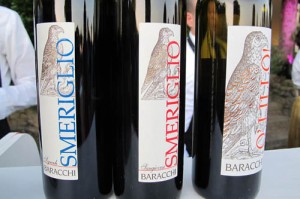 I was ecstatic to find out that they were pouring my favorite Baracchi wine and absolute favorite Sangiovese made in the method of champagne.  That was it for me, no other cocktail would do!
My Del Brenna friends had a little display set up to the side of the bar displaying some of their beautiful pieces of jewelry.
Let's see how many celebrities stopped in!  First sighting, the lovely Silvia Baracchi, owner of Il Falconiere.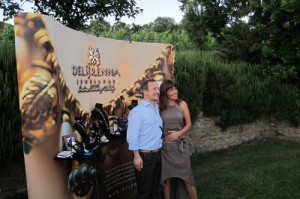 And look who else came by!  None other than yours truly, the Cortona wine blogger extraordinaire!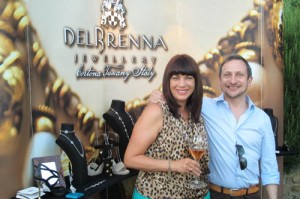 The perfect set-up, wine, shine and dine!
It was an absolutely intoxicating night, and I'm not just talking about the free-flowing wine.  It was still quite warm out and the night slowly came on like a velvety blanket over the sky.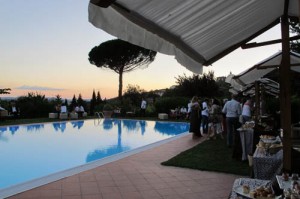 As it became dark the music grew livelier and the mood changed to a bit more of a clubby feel.  It was truly a very enjoyable event with just stunning views and great food and wine. Complimenti!
It sounds like this may become a bi-weekly event.  If so I will be adding it to my wine event calendar and highly suggest it as a lovely way to spend a Sunday evening!
I leave you with scenes from the rest of the night under a very large Tuscan moon.