benvenuto brunello 2015 – the best of the 2010 vintage!
I'm baaaaaaack! And starting the year with quite a bang!
I had the amazing opportunity to attend Benvenuto Brunello 2015 in Montalcino, Tuscany yesterday where I was able to sample what is considered to be the release of the best vintage in recent history, the 2010 Brunellos!!!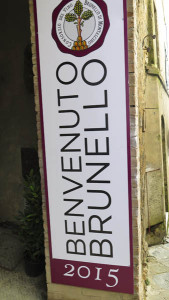 There has been so much anticipation about the 2010 vintage, all the wine experts are falling over themselves with accolades and excitement for the release of these Brunellos!
The event was packed with people, buyers, press, critics (we spotted Luca Maroni there making many notes), so crowded you actually had to jostle your way through people to each winery to be able to taste.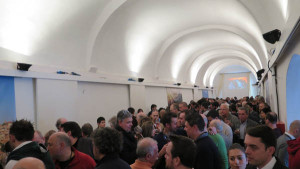 As much as I hate crowds, it was so worth the opportunity to taste so many incredible Brunellos!!!
There are way too many to list, but here are a few of my top favs…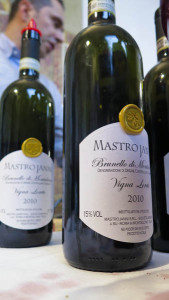 Mastrojanni Brunello 2010 & Mastrojanni Vigna 'Loreto' 2010
Mastrojanni has proven over and over again that they know how to make a great Brunello. Their 2010 vintage is simply outstanding, with heavy tannins and big full fruit flavors, still somewhat reserved but these wines honestly should be laid down for quite some time, even if they are pretty good right now! Rated 98 and 97 respectively by JS, I was truly impressed with how smooth and rounded these tasted.
Máté Brunello 2010
I'm wasn't familiar with the Máté Winery but the Italian wine shop I do social media for included them in their Brunello offerings and I decided we needed to try them and I was so glad we did! The 2010 Brunello is quite a fruit bomb with deep flavors, very nice, rated 94 by JS. They also were tasting their Cabernet Sauvignon which was quite delicious!
Le Ragnaie Brunello 2010, Le Ragnaie Brunello 'V.V.' 2010 &
Le Ragnaie Brunello 'Fornace" 2010
Wow, wow and more wow! As far as outstanding, these wines are simply divine! My first time tasting Le Ragnaie and I can't rave about them enough! I'm beginning to come around to the organic wineries and this one is just exceptional. The Brunello 2010 is another fruit bomb with barnyard on the nose, something that set it apart from all the rest. The two single vineyard select wines, V.V. and Fornace were just a step up from the regular Brunello and both incredibly diverse and separately fantastic. V.V. was rated 100 from JS but I preferred the Fornace which received 95 points.
Castello Romitorio Brunello 2010
I've always been a fan of Castello Romitorio, probably because of the art that goes along with the wine. The 2010 Brunello is really quite nice, big and bold and a great value for the price! I also am a big fan of their Romito which is a Sant'Antimo Rosso blend, quite fruity and fresh but bold enough to hold its own.
Albatreti Brunello 2010
I love finding little unknown producers. This man just happened to be next to one of the wineries I had marked on my list to taste. He was so cute we had to stop and try and his wines and were pleasantly surprised! The Albatreti Brunello 2010 is quite nice, restricted but with deep fruit flavors. At the 20 euro range it is really quite a steal and definitely something you won't find easily but if you do I highly suggest buying some!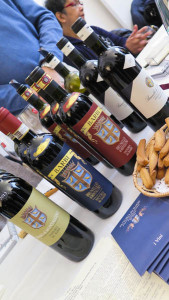 Barbi Brunello Vigna del Fiore 2010
The Barbi Brunello 2010 was highly rated but not the flavor profile I tend to like. It was very light on the nose, thin with a high acidity and red cherry flavor. On the other hand the Barbi Brunello Vigna del Fiore 2010 was delicious, much deeper with some caramel and round flavors.
Col D'Orcia 2010 Brunello
Col D'Orcia had quite a lineup of wines to try but I was really impressed with their regular Brunello 2010. (as if any Brunello 2010 is just "regular") It was really nice with deep flavors but enough acidity to age quite well with cherry and sweet tobacco flavors. 92 points from JS.
By midday it was so crowded it was getting ridiculous, especially in the main room.
A welcome break was the room between the two wine galleries where they were serving pecorino and parmigiano cheese, of course pairing perfectly with all of the wines!
I probably tasted less than 1/4 of the wineries at the event. It was literally impossible to pass to everyone with the amount of people there and the amount of wineries! Thankfully I had selected ones and was able to make it to each of them and discover a couple new ones.
Such an impressive year, the 2010 Brunellos are going to be raved about for quite some time. They will sell out fast, I'm getting my order in as we speak!!
It was a pretty cold winter day out but the drive in and out was still spectacular even if it was threatening to storm out. I can see why this area produces such amazing wines!