Biserno wine tasting dinner at Osteria del Teatro
Could the last wine tasting dinner of the season have been any more fabulous?
I don't think so.
Hosted by Molesini Wine Shop and Del Brenna Jewelry, the free wine tasting in the piazza was already teetering on over the top.  As we arrived late to the party as usual, they were lighting a couple of lanterns at the tasting, creating quite the spectacle, but in a-very-amazing-ambiance-at-dusk kind of way!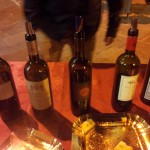 There was a lovely line up.  Biserno, the featured winery of the night, was pouring generously for the tasting in front of the Molesini Wine Shop.  I was very excited, being already well versed in one of their wines.  I had very high expectations and was looking forward to trying all of their wines!
Tenuta de Biserno isn't just your average winery.  Founded by one of the Antinori brothers after he sold off his famous Bolgheri estate Tenuta dell'Ornellaia, and joined by another Antinori brother, this estate is a pet-project located in the northern Maremma just bordering the Bolgheri region.
Wow.  I think I just fell in love.  All those big words ending in i's and a's and I can't believe I'm using them all in the same sentence.
The tasting served to tantalize me just enough to be VERY excited for dinner and the experience of the pairings with courses.
Time to get the party started.  Those of us attending the dinner walked up to Osteria del Teatro where they were serving appetizers out of their newest little cafe just across the street, Fett'unta.  To start the evening off with a literal "bang" they let off a couple confetti canons and opened up wine bottles with swords.  We, understandably, were duly impressed as we all spilled out into the street and sipped a welcome prosecco while nibbling on miniature lampredotto panini.
The restaurant was packed with people which I should have expected, being the last dinner of the season AND considering the winery being featured.  The tables were decked out with a fall motif and our hosts, Molesini and Del Brenna, had left us all a little thank you note with a cork charm key chain.  Nice touch!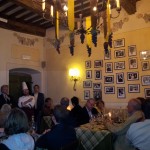 Debriefing time.  Marco Molesini gave everyone a warm welcome followed by Osteria del Teatro's award winning chef Emeliano who filled us in on all of the dishes we would be sampling throughout the evening. Finally followed by a representative from the winery giving us a the nitty gritty on Biserno.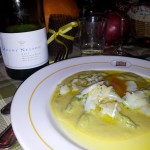 The first course was baccala (white fish) with an asparagus puree with a dab of passion fruit. Very delicious and perfectly paired with the first wine, from their New Zealand estate.  Although not Italian, we still felt the need to give our two cents on group tasting notes:
Mount Nelson 2011 Sauvignon Blanc
Nose: eucalyptus, apple and then cinnamon at the end, sweaty socks,
Mouth:  citrus fruits, grapefruit, honey, orange blossom, kumquat, passion fruit,
I'm not the biggest fan of Sauvignon Blanc but I have to say that it was paired perfectly with this dish and when something is paired correctly, it drinks quite nicely.  You can quote me on that.
Next dish of the evening was a very hearty and meaty cinghiale (wild boar) lasagna, you know, the one you dream about in a very comfort food sort of way?  Yet another fabulous pairing with a young wine from the Campo di Sasso Estate which is in the north area of Tuscany's Maremma area located west and near the sea.  This wine is 32% Syrah and the rest a blend of Cabernet Franc, Merlot and Petit Verdot.  Yum!  Here was our group tasting notes…
Insoglio del cinghiale 20111
Nose: barnyard, leather, burnt sugar
Mouth: blueberry, peppermint on the tongue, blueberry, blackberry, long finish, dark chocolate, dark roasted coffee, peperoncino
Next course, duck breast accompanied by olives and sun dried tomatoes.  On paper this sounded a little just so-so to me.  In reality it was sumptuous and being that duck is quite fatty, there was a miracle going on in my mouth every time I took a sip of the next wine, Il Pino di Biserno.
Now I have to be honest, I was able to taste this wine earlier this year and fell in love with it.  A blend of Cabernet Franc, Cabernet Sauvignon, Merlot and Petit Verdot, this wine has layers upon layers of flavor and an extremely long finish.  And you cry a little bit inside when it finishes because you don't really want it to finish.  Ever.
Here are our group tasting notes…
Il Pino di Biserno  2008
Nose:  red dried fruit, leather, snickerdoodles, crème brûlée, cookies, violet

Mouth: red raspberry, strawberry,  blueberry, green pepper, a box of chocolate covered cherries
This wine received 92 points from Wine Spectator and 93 from Robert Parker for the 2007 vintage and 91 points for the 2008.  Apparently my mouth has good taste.
Because I have nothing better to do than continue to make you jealous (and see what you are missing if you don't attend one of these wine dinners that happen every Thursday night May – October in Cortona), here's how we finished off the meal…
Chocolate cake, anyone, with orange and made to look like a giant barrel?  This was paired with Tokaji, a collaboration this Antinori brother does with a
Hungarian winemaker and it is produced in Hungary.  I'm not big on dessert wines and I still had some fabulous Il Pino left which I was more happy to sip on although everyone else mentioned how much they enjoyed the Tokaji.  Plus, since that wasn't enough already, Marco Molesini went ahead and opened a super-sized bottle of Berlucchi Brut which I of course drank because I always have room for bubbly.
Why?  Well, that's just how we roll here in Cortona.  Don't hate us for loving wine!