Chianti Classico Collection 2014
I had the chance to go to the Chianti Classico Collection 2014 event this year where more than 180 wineries were tasting with their new vintage, the 2013, 2012 Chianti Classico and the 2011 Riservas.
The tasting itself was a little overwhelming, with so many wineries and so many wines you had to really quickly move through each one to cover any ground. I was with a client of mine, Molesini Wine Shop, who was on a mission to visit specific vendors so I just tried to keep up with him, which was challenging!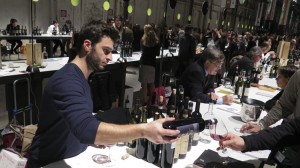 There were a lot of great wines being poured, the hard part was tasting each and every one of them! We tried just to focus on the best of the selections and not linger too long.
There were some stand out wines but we also had the chance to sample some IGT's that were pretty incredible. Here's our top picks for the day, my absolute favorite and new muse* is the very last listed wine, more details when I actually get my hand on a bottle of it.
Barone Ricasoli IGT Toscana Casalferro 2010 (100% Merlot)
Castelli del Grevepesa Chianti Classico Riserva Clemente VII 2010
Castello di Fonterutoli IGT Toscana Siepi 2011 (50% Sangiovese, 50% Merlot)
Castello di Monsanto Chianti Classico Riserva Il Poggio 2009
Castello di Monsanto Chianti Classico Riserva 2010
Castello di Querceto IGT Colli della Toscana Centrale Cignale 2008
Dievole Chianti Classico Riserva Novecento 2008
Famiglia Nunzi Conti Chianti Classico Riserva Vigna Elisa 2012
Fattoria San Michele a Torri Chianti Classico Tenuta La Gabbiola 2011
La Porta di Vertine IGT Toscana Sassi Chiusi 2010 (60% Merlot, 40% Cabernet)
Melini – Machiavelli Chianti Classico Riserva Vigna di Fontalle 2010
Podere Il Palazzino Chianti Classico Grosso Sanese 2008
Querciabella Chianti Classico 2012
San Felice Chianti Classico Riserva Il Grigio 2010
Tenuta di Nozzole IGT TOscana Il Pareto 2010 (100% Cabernet)
Terreno IGT Toscana Petit Verdot 2010 (100% Petit Verdot)*