Consorzio Wine Tasting Event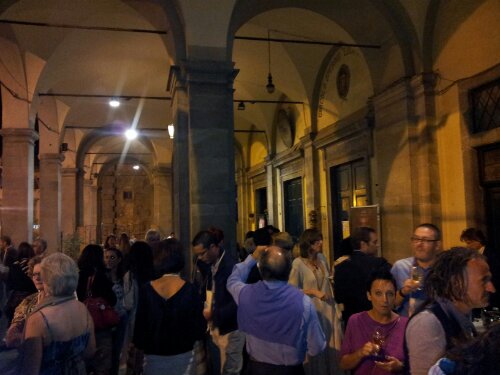 Held under the regal arches of the Teatro of Cortona, the Strada dei Vini Cortona, end of summer wine event was a small but very welcoming and a nice representation of some of the great local Cortona wines.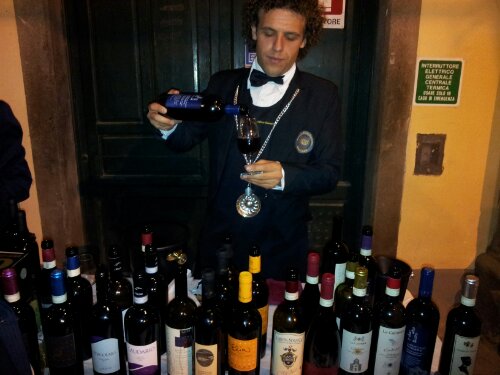 With two sommeliers actively pouring wines and available to answer any general wine questions, it was a nice way to taste a decently sized pour of the available 25 or so wines. As opposed to the U.S. where you often meet winemakers or a winery rep serving their wine, in Italy at many of the tasting events you are served by a sommelier.  If you look closely though, you'll often find a winemaker lingering nearby.  Rumor has it one of the handsome duo of Leuta was there, as well as a dapper cigar-dangling winemaker who might or might not have a silhouette of his grandfather's profile on his label.
Some of my local favorites were offered, like Leuta,Stefano Amerighi and Fabrizio Dionisio, but I chose to suck it up and branch out to try a few I hadn't bothered to taste before. Very brave on my part, I know, trust me, I hate wasting time on a bad glass of wine.  But, there was work and sacrifices that had to be made.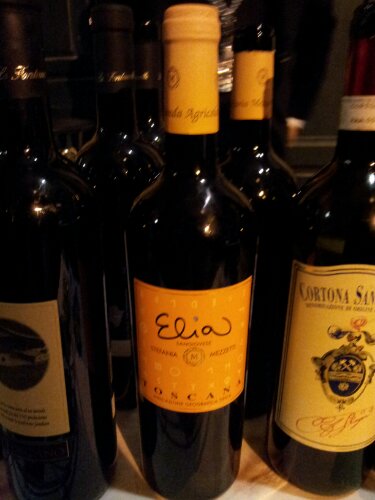 I steeled myself for my first choice, Elia by Stefania Mezzetti, who makes some other nice Cortona wines I often enjoy drinking.  Elia is a 100% Sangiovese and touted as an IGT Super Tuscan. It is quite a soft wine, a little softer than I prefer, although still nice with hints of tobacco, dry red berries and very light tanins. Nice, not as full bodied as I would like, but a still a consistent quality along with the other Mezzetti wines that I have tried.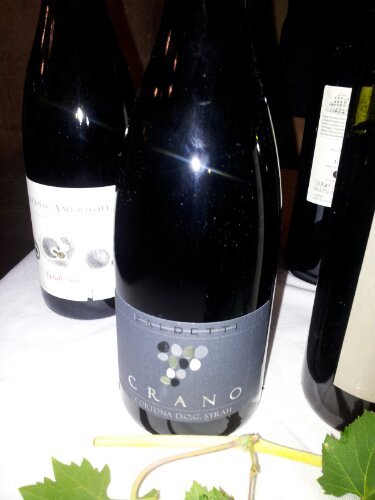 Next up on my tasting tour, Baldetti's Crano, a Cortona D.O.C. Syrah.  Again, a lighter style wine, much softer than I prefer to have compared to some of the other full-bodied Cortona Syrahs.  Soft fruit, very light tanins and a little pepper. Again, still a good wine, just not my preferred knock-your-heels-off big red.
Last up on tasting, Villa Loggio Thefarie, another IGT Rosso Toscano, a blend of Merlot, Alicante, Cabernet Sauvignon and Syrah and aged for 18 months in barrels.  This is not a normal combination nor aging time for local wines and I was excited to try it.  Again, soft.  At this point I'm wondering if my palette has been off all night.  I wasn't overtly impressed but just in case it was an off night I plan on going out to the winery in the near future to taste and give it another try.
It was one of those nights that made me wish I had stayed with my tried and true favorites.  But then what would I have to write about?!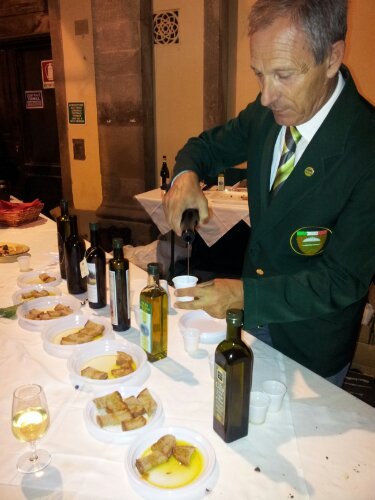 They also had an olive oil tasting section with some quality Cortona showings. The husband, being the olive oil guru he is, was quite pleased and enjoyed the knowledgeable gentleman who was pouring.
All in all a good showing for Cortona wines.  I'm always proud to support my local peeps, not just because they are my neighbors but because the Cortona area is doing some pretty amazing things in the wine world.  And this diva is going to be here to record it all, one wine at a time.