Cortona's newest wine bar for pairings, Zaffiro Rosso
It's rough being a wine blogger.  I mean all these dinners and tastings to write about.  I'm currently behind in posting all the goings on as I speak!
BUT, I wanted to give the inside scoop on one of Cortona's newest hidden gems and the amazing pairings they are designing.
Benvenuto Zaffiro Rosso, a small intimate little wine bar located within Del Brenna Jewellery's new beautiful showroom underneath Cortona!
Being good friends with the owners of Del Brenna as well as the winemaker of the Leuta Wines they want to feature, I was invited to a private testing/tasting of some pretty amazing wine pairings last night.
Zaffiro Rosso is already making a noticeable effort to be a high-end wine pairing destination.  Carrying one of our best local wineries, Leuta, is definitely a great start.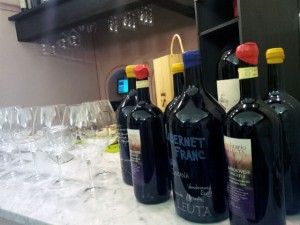 Del Brenna/Zaffiro Rosso is a family affair.  Twin brothers Sebastian and Alessandro are third generation jewelers now trying their hand in the boutique bar/restaurant business as well.  As Sebastian says, "We want to assuage ALL of the five senses."
Wining the glasses is a very important part of tasting wine.  Zaffiro Rosso uses beautiful large crystal glasses (that also can be purchased!) for sampling the wine.  They even offer prosecco with flakes of gold or silver in it as an aperitivo.
The point of tonight was to sit with Del Brenna staff , Leuta winemaker Denis, Keith from L'arte dell'Olivo Olive Oil and Balsamics and help design various pairings.  Zaffiro Rosso plans on offering wines either by flight or the glass paired with a delectable small dish.
Even the food is being handmade by the family.  Lucia, wife to Alessandro, is not only a jeweler but a very talented cook who must have spent most of the day preparing everything we subsequently tasted.
The first pairing, Leuta Rosso with a very delicate dish made of filo dough filled with tropea onions and fresh thyme.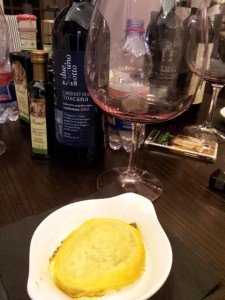 After much discussion, many more tastes of the wine, and just a few helpful suggestions, we all decided the dish was a hit!
While we were busy sipping and sampling, many other savory things were being prepared in the kitchen!
Denis, of Leuta Wines, gave a brief overview of each varietal as we slowly savored the wines and dishes.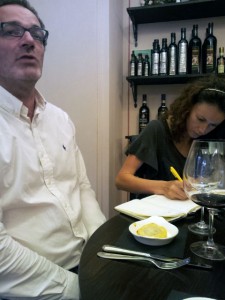 The dishes they are creating are just tastes, something to perfectly compliment the wines.  This delectable dish was an oven roasted potato in wine & L'arte Olive Oil, with pecorino cheese rosemary and black pepper.  Another hit pairing very nicely with the Leuta Cabernet Franc.
This next dish was so amazing I couldn't even retain the Italian name for it.  Exploding with all kinds of flavors, it was filo dough with ham, pecorino cheese, pears and whole red peppercorns, finished with L'arte Balsamic from Modena.  Absolutely divine.
Another delicious dish, baked filo dough, truffle pecorino cheese with prosciutto and just a drop of L'arte 20 year-old Truffle Balsamic.
Of course if there is good wine there has to be amazing cheese.  These locally made cheeses were an absolute hit with everyone.
This pecorino was a delicately flavored blue style of cheese that paired perfectly with the Leuta Sangiovese.
Another fabulous cheese, ash on the outside, served with marmalade.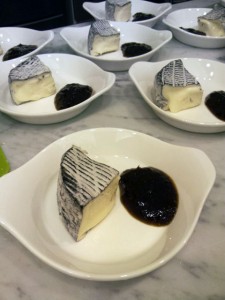 This pecorino was aged in olive leaves, was quite chalky and crumbly and just perfect with a few drops of L'arte Extra Virgin Tuscan Olive Oil.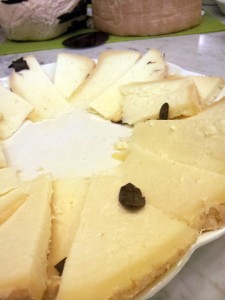 The pairings went on, and on, and on.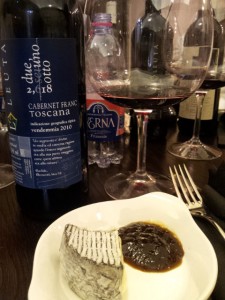 The kitchen was a flurry of activity prepping and serving each tasting.
The Del Brenna staff was all on hand to help give their opinions and suggestions for the pairings.
Chef Lucia takes a well deserved break while Sebastian and Alessandro consult with Keith of L'arte dell'Olivo.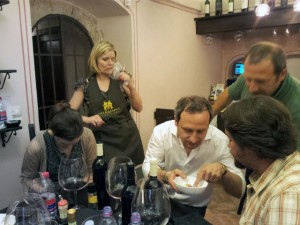 Denis of Leuta Wines found his perfect pairing, blue veined pecorino cheese and a very tasty sesame crusted cracker.  I think he might have single-handedly finished off the entire plate of cheese.
Megan, wife of Sebastian and designer and manager extraordinaire, was also on hand to help decide on the pairings.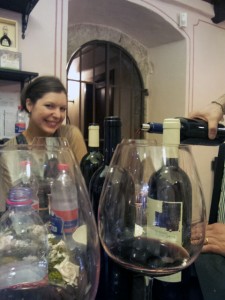 I like to think of the next two photos as "The Men of Del Brenna".  I guess it wouldn't be fair to put them under the Del Brenna Diva's title…or would it?!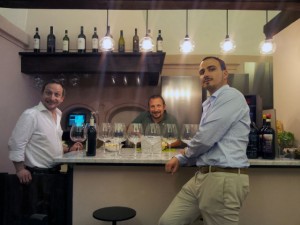 Dead soldiers. Very, very delicious dead soldiers.
And at the end, trying to figure it all out.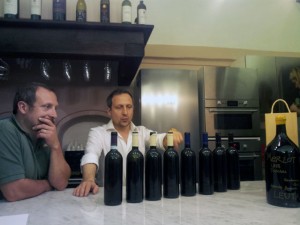 A big huge congrats to Del Brenna, I think Zaffiro Rosso is going to be a very high-end first class tasting room which pairs quite nicely with their beautiful showroom space.  Did I mention they also have a cigar room?
You'll know where to find me sipping a giant glass of wine…