Emidio Pepe Montepulciano d'Abruzzo 2007
Yet another great dinner, another interesting wine!  Let's start the 2013 year right!!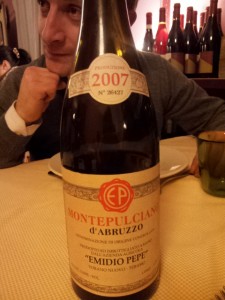 Breaking it down:  Montepulciano d'Abruzzo is a comes from the region of Abruzzo, in central eastern Italy.  Often confused with Vino Nobile di Montepulciano from Tuscany which is a Sangiovese grape, this grape/varietal is actually named Montepulciano, thus the name Montepulciano d'Abruzzo!
Emidio Pepe has been making wine for the past 40 years and farms using the biodynamic method.  The wine ages in cement vats for at least 2 years and then it is bottled.  The bottles are put into a very large underground cellar where they age, some for many years.  The wine is unfiltered and interestingly enough, before being sold, each bottle is carefully hand decanted into another bottle to remove the sediment.
Our group Tasting Notes:
Nose:  Barnyard, red berries, rubber, asphalt and a hint of rose
Taste:  Rounded but apparent acidity, dry red fruit, dark chocolate, chalky, persistent, roasted meat
The Nitty Gritty:  Three out of four of us really liked the wine.  It was definitely at or just past it's peak, but had a well balanced acidity and a good mouth feel.  Now that I know it was aged in cement vats for two years I recognize style.  A lighter style wine but still flavorful and very drinkable.