Fontodi Case Via Syrah 1999
Talk about being in the right place at the right time!  The other night we met up with visiting friends over dinner and later walked over to visit yet another friend, our fabulous local chef Emiliano Rossi of Osteria del Teatro and newly opened the little Fett'Unta Fiaschetteria.  Having just finished serving dinner to the masses, Emiliano welcomed us by opening a bottle of Fontodi Case Via Syrah 1999 vintage.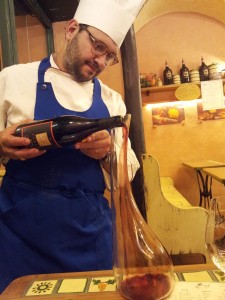 Breaking it down:  Pour a wine into a loooong decanter and you've impressed me.  Yes, I know, I'm easy like that.  Being 1999 AND a Syrah, decanting this wine was a wise choice considering we wanted to drink it in the next few minutes.  It was garnet colored with some serious residue at the bottom.
Our group Tasting Notes:
Nose:  Earthy, sulphur, salty, dark fruit, red peppers, herbal, forest fruits marmelade (marmelatta frutta di bosco)
Taste:  Round, strong, makes me melt (thanks Megan!), raspberry, herbal, chalky, red fruit berry tang, very persistent, acid, fresh, soft tannins, coats your tongue, silky, and last but not least, salty
The Nitty Gritty:  Being that this wine is grown in the Chianti region it actually is a Toscana IGT wine since it is Syrah grapes.  Fermented in stainless steel tanks for at least 3 weeks and aged in French oak barrels for 12 months.  With 10,000 bottles made, it isn't a small production wine but it certainly tastes like one.
This was definitely a wine we savored and between the seven of us it went a little too quickly.  Emiliano knew enough to pull out a leg of prosciutto as both the salt and fat of the meat complimented the wine.