Introducing the delightful Franz Haas
I have to confess that I've been in love with white wines from the Alto Adige region in northern Italy for some time.  When a good friend from Trentino invited me to go wine tasting there with him, I didn't even hesitate.  I packed up the husband and dog and made the four hour trek to the beautiful region located just south of Austria in the midst of the Dolomiti where German is spoken as much as Italian.
I had the absolute pleasure of spending a few quality hours with Franz Haas this weekend barrel tasting and learning about his surprisingly wonderful wines.  I say surprisingly because
he definitely thinks outside of the norm in his quest to shape and guide his wine to his precise and unique style.
Stopping in at the Franz Haas winery was a fluke.  We were late for a previous appointment that couldn't reschedule and just happened to be in the area hoping to try one more winery.  The Franz Haas tasting room was still open, when we walked into the tasting room Franz just happened to be there and recognized my friend Denis Zeni, winemaker of Leuta.  And the rest will go down as an extremely enjoyable private barrel tasting extravaganza with Franz!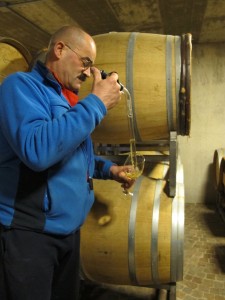 Producing over 300,000 bottles a year you tend to assume that the owner is probably not as involved in the process anymore.  Well, that would make an ass out of me!   The first thing I learned is that Franz is pretty crazy about his winemaking and is constantly refining and adjusting how he makes each wine even down to different ways of harvesting and each separate barrel he's aging the wine in.
Franz was daunting to taste with.  All of his barrels are cryptically marked and you have no idea of what you are tasting which he uses to his advantage.  He wants to know exactly what you think of each taste without giving you time to think and encourages raw unedited comments, whether good or bad.  After the first few barrel samples of white wines, one being a lovely Chardonnay, I quickly learned that Franz enjoys playing with wood and uses it to a science to compliment and perfect his wines.  Hmmm!
Franz took us up to another area of his winemaking facility all of which is built into the hillside.  A stunning room just full of oak barrels that was obviously humidity and temperature controlled with a lit glass display at one end with some of the artwork that appears on his labels.
Franz was very concentrated and almost troubled as to which barrel he wanted to sample us on first.  Finally he chose and pulled a strawberry colored liquid out with a wine thief and poured us each a healthy glass.  Sniff. Taste. Sniff. Taste. A questioning look from Franz, "Tell
me what you taste." Not wanting to sound like an idiot and being a self-proclaimed wine blogger, I felt the need to say something pretty profound, which definitely meant that what I about to say wouldn't be. "Many different layers, many. <pause> Seems like, reminds me of … a… Pinot Noir." A pregnant pause where no one dared to breathe and then with an expelling of air Franz asked if he could kiss me.  Whew, wine taste test passed!
We proceeded to barrel taste through some AMAZING aging Pinot Noirs.  Some from different vineyards, some harvested differently, others processed differently, and of course all being aged in different barrels. I was slowly falling in love. Not only was I finally tasting some great reds from Alto Adige but Pinot Noir AND aged nicely in barrique?  Most importantly different.  These were exactly the types of flavors I look for in a Pinot Noir, layers of smoke, barnyard, red raspberry, cherry, hints of rose, clove and many other flavors all layered in rings that were persistent in the mouth and left you just wanting to sigh contently. Wow. I mean really, WOW!
I think we may have tasted 8 barrels, maybe 12, maybe more?  I lost count, NOT because of what you think, but really it was so much fun and each one was completely different and Franz was a blast, guiding us through it all.  At a certain point we tasted a couple very peculiarly flavored Pinots and when asked the only thing I could think of was the overpowering flavor of barnyard and very eloquently told Franz that the first had a LOT of animals in it but the second one maybe only 2 or 3 animals. Quite profound and it even earned me another kiss on the cheek from Franz.
By now the winery was closed and everyone had gone home but Franz still had one more wine for us to try.  A red fizzy moscato that was really quite nice!  Sweet but not too sweet, aromatic, still some complex flavors and pleasantly bubbly.  Just like Franz himself!
The only pity of the night was that the wine shop was closed well before we finished our private tasting and we couldn't walk away with anything! I'm hoping Franz will remember us, take pity on us and get a shipment down to us in Tuscany!!!  Please, pretty please?
In the meantime I know he makes enough for all of us to enjoy and is distributed by Winebow in the United States, so I'd highly suggest you get some before I buy it all up!