La Cerbaiola 2009 Rosso di Montalcino
Thank goodness I'm a wine blogger. Otherwise I don't know what excuses I have for all the crazy great wine I imbibe.
Take Friday night, for instance.  Mutual friend comes into town.  Dinner plans are made, small group of friends gather including our Cortona wine shop owner, Marco Molesini. Which in itself is great because Marco is fun.
But Marco also likes wine.  Good wine.  And he has a wine shop.  And if you own a wine shop why would you every order wine off a menu? Yes, it does suck to have friends like that if just for the times you can't dine together.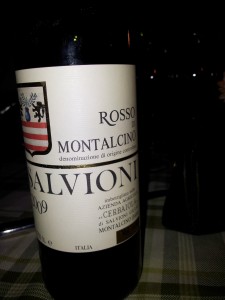 So we are introduced to the world of La Cerbaiola.
Breaking it down:   Just a little red wine from Montalcino.  Actually a Rosso di Montalcino, to be exact.  But as Marco explained, a better term would be a "Brunellino" – little Brunello because this wine is the same one they make into Brunello, it just hasn't been aged as long.  Giulio Salvioni is doing something wonderful because this is a fabulous little wine.  Wonderful mouth feel and long, lingering flavors.
Our group Tasting Notes:
Nose:  Red dry fruit, rose, asphalt, leather, wet horse
Taste:  Dark chocolate, caramel, coffee, dark berries, pepperoncino
The Nitty Gritty:  Wow.  Really impressive.  This wine goes on forever and being 2009 it still is rather young. I can't even imagine how good the Brunello from this producer is and it seems that I probably shouldn't find out.  Considering Robert Parker gave this wine 91 points, I'd say yet again, I have pretty good taste.