Pieropan degustation dinner at La Loggetta
This week's Wine, Shine & Dine event in Cortona on Thursday, June 12, 2014 featured well known Venetian Soave winery Pieropan.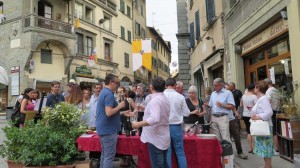 The free tasting started at 4:00 p.m. at the Molesini Wine Shop in Piazza Repubblica during a sweltering afternoon but with all of the cool crisp Soaves, it was an excellent way to beat the heat.
The wines they were pouring at the free tasting were…
SOAVE CLASSICO 2013 DOC
CALVARINO SOAVE CLASSICO 2012 DOC
LA ROCCA SOAVE CLASSICO 2012 DOC
RUBERPAN 2011 VALPOLICELLA SUPERIORE DOC
AMARONE VIGNA GARZON 2010 DOCG
Tonight's dinner was hosted by one of my favorite venues, La Locanda nel Loggiata. Tables were set up outside with a gorgeous view of the town hall.
Ghes 2013 Spumante Rose Extradry – A beautiful rose color and was a lovely dry sparkling wine that went perfectly with the appetizers.
Served with Loggiato welcome appetizers consisting of fresh oysters, and various fried fish finger foods.
Gadus Morhua al Vapore Soave Classico 2013 DOC – One the nose:  Grapefruit, lemon and pineapple, neroli & slight sandalwood citrusy.   In the mouth: Gooseberry, grapefruit, tart, lemony finish.
Served with Baccala fish on a potato torte with a pistachio puree and raisins.
La Rocca Soave Classico 2012 DOC – On the nose:  Banana, sulphur, ash, lemon slight hint of honeysuckle and caramel. In the mouth: Explosions of flavor, Lemon, pear, apple, caramel, very citrusy, finishes dry.
Served with Linguini pasta with shellfish, clams, mussels and lagostina.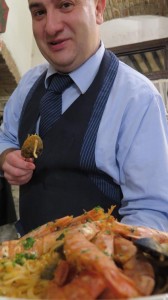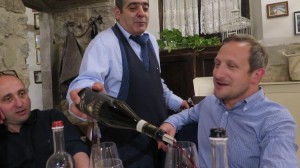 Amarone Vigna Garzon 2010 DOCG – On the nose: Dessert sage, mint, eucalyptus, dried red currant, acute smokey flavor In the mouth: Graphite, tar, blueberry, caramel, blackberries, currant in the mid pallet with a cashmere texture. Dark chocolate dried cherries, sweet tobacco
Served with Ossobuco on a volcano of saffron rice.
Le Colombare 2009 Recioto di Soave DOCG –  On the nose: Shortbread   In the mouth: Candied orange, caramelized candy, kiwi
Served with caramelized Bigne with a chantilly fruit sauce.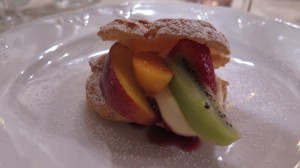 A lovely evening filled with great wine and excellent food!