Recap: Wine, Dine & Shine Casanova di Neri Dinner at La Loggiata!
This week's Wine, Shine & Dine event in Cortona on Thursday, September 22, 2013 featured award winning Brunello winery Casanova di Neri with special guest, owner Giacomo Neri!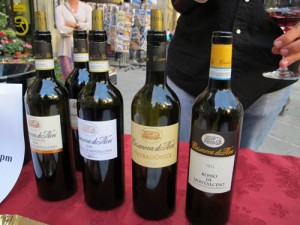 The free tasting started at 4:00 p.m. at the Molesini Wine Shop in our beautiful Piazza Repubblica just as the sun was beginning to set.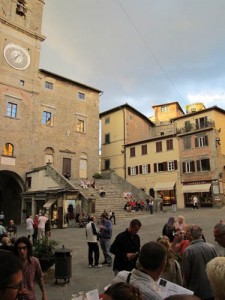 There was even a small tasting station featuring Pratomagno prosciutto which comes from a mountainous area in central Tuscany.
Considering that Casanova di Neri has been rated the #1 winery in the world and consistently is rated highly for all their wines, the tasting was well attended!
I'm glad we arrived earlier than usual, there was a very large crowd in front of the Molesini Wine Shop, everyone jostling for position to get their free taste!
The wines they were pouring at the free tasting were…
Rosso di Montalicino DOC 2011
Brunello di Montalcino DOCG 2008
Brunello di Montalcino Tenuta Nuova 2008 DOCG
Pietradonice 2010 IGT Toscana
I'm a big fan of Casanova di Neri and all these wines we were tasting quite wonderful. I can honestly say that this is probably one of my fav. Rosso di Montalcinos right now.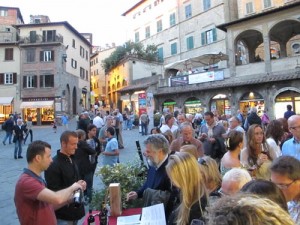 They were flying through bottles faster than they could restock.  Not a bad thing!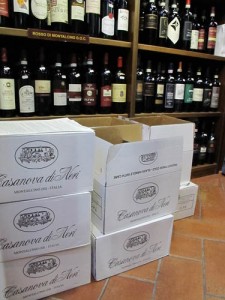 Inside the Molesini Wine Shop, for those in the know, Paolo was pouring some very, VERY special wine.  A wine that I only recently tasted for the first time in February and immediately fell in love with, not even realizing how highly rated (and expensive!) it is.  I guess you can say I have great taste!
Brunello di Montalcino Cerretalto 2007
Brunello di Montalcino Cerretalto 2004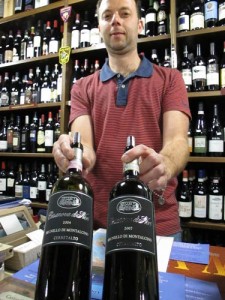 The 2007 was rated 100 points by Wine Enthusiast and they weren't being dramatic, it is SUCH an amazing wine, velvety and rough at the same time with big deep berries and a full palette of flavors.  The 2004 was also incredible and still proving that this wine can age for a very long time.
Soon it was time for us to head up to the restaurant for the wine paired dinner.  With the evening sky lit against the Cortona town hall, it made for quite a beautiful setting.
It wasn't a very long walk, tonight's dinner was being hosted by La Locanda nel Loggiata, which not only overlooks our beautiful Piazza Repubblica but also just happens to be a rising star amongst the Cortona restaurants.
They had appetizers set up outside on the balcony that overlooks the Piazza.  It was such a lovely evening out, probably the last we would be able to be seated outside this summer. I planned on enjoying every minute of it.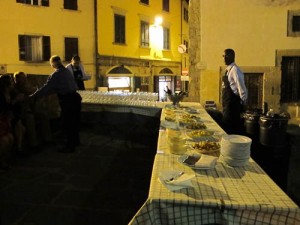 Marco Molesini welcomed us and introduced us to owner and winemaker Giacomo Neri of Casanova di Neri. Giacomo gave us a brief background of his winery, started by his father in 1971 and given to Giacomo in 1991. They have 150 hectares of vines in 3 different positions in Montalcino and have been quite successful with their wines.
But enough about the winery, bring on the wine!!!
Rosso di Montalcino 2011 DOC – On the nose, red raspberry, cocoa powder, a little violet, burnt sugar and alfa alfa.  In the mouth: Dried red fruits and bitter dark chocolate. Served with a brick of pate with a reduction of vin santo and raspberries.  Also served with a "hot but not" with bacon, which is like a warm split pea soup with yougurt/cheese at the bottom.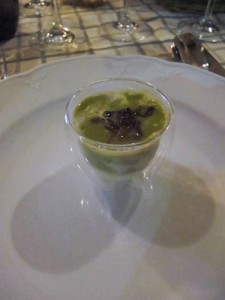 We were lucky enough to be seated outside at the Del Brenna table who put the "shine" in Wine, Dine & Shine!  The view from my seat of the town hall was stunning.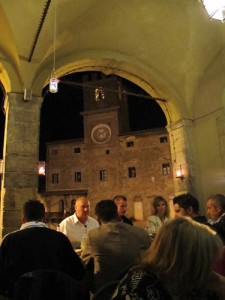 Pietradonice 2010 IGT Toscana – One the nose: Rose, dried red berries, asphalt and straw. In the mouth: Bitter dark chocolate, violet and leather. Served with half-moon pasta filled with pork, farro and Tuscan spice (with nutmeg) in a sauce of ribollita . Really, really great dish and amazing pairing!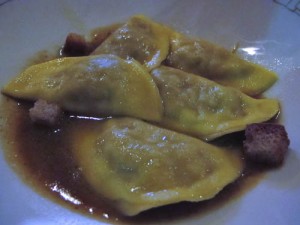 Brunello di Montalcino Tenuta Nuova DOCG 2004 – On the nose: Very soft, delicate, definitely ready now, very light on the nose, not much in the mouth, a little raisiny. Paired with braised sliced filet (that was a tad dry) in a tasty sauce with a side of vegetable parfait that actually was pretty good.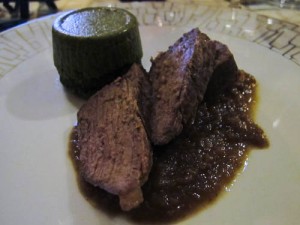 Grappa Cerretalto – Served with chocolate fondente that was pretty much what you wished chocolate pudding could ALWAYS taste like.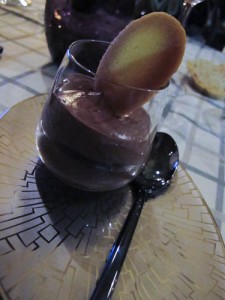 I couldn't resist a couple great photo opps for Marco Molesini, the first with Giacomo Neri himself!
The second with Marco and Giacomo's son, now fourth generation Casanova di Neri.