Recap: Wine, Dine & Shine Castello Monsanto Dinner at Corte dei Papi!
This week's Wine, Shine & Dine event in Cortona on Thursday, August 1, 2013 featured Castello Monsanto from the Chianti region.
The free tasting started at 4:00 p.m. at the Molesini Wine Shop in a very, very crowded Piazza Repubblica.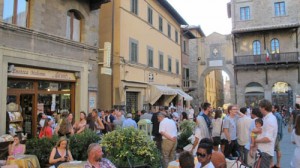 The featured winery of the evening, Castello Monsanto, has been making Chianti wines from their estate since the 1960's.
The wines they were pouring in the Piazza for the free tasting were:
Fabrizio Bianchi Chardonnay 2011 IGT Toscana
Fabrizio Bianchi Rosato 2011 IGT Toscana
Chianti Classico 2010 DOCG
Chianti Classico Riserva 2009 DOCG
Chianti Classico Il Poggio Riserva 2007 DOCG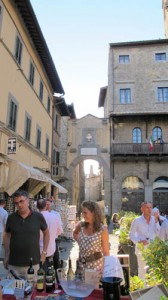 I not only had the chance to taste the wines but even catch up with my dear friend Megan who is usually working away at Del Brenna Jewellery during these events!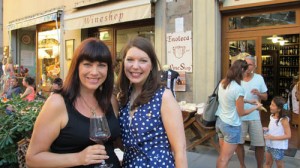 The piazza made for a beautiful setting for a late afternoon wine tasting in the center of medieval Cortona.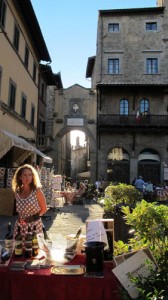 Quite a few people stopped in to sample the Castello Monsanto wines.
Once again Paolo Molesini had some hidden gems inside the shop, a vertical of the Monsanto Il Poggio Riserva, 1995, 1999 and 2001!  Wow, a great reminder that these wines need time and how amazing they can be if you can hold on to them for a while!
I couldn't resist capturing this lovely moment with the commune building in the background.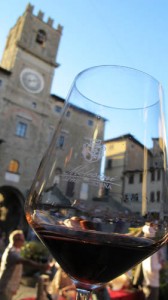 The dinner was held at Ristorante Relais La Corte dei Papi, about a 5 minute drive down the hill and into the countryside that surrounds Cortona.  The grounds are stunning and appetizers were served at various stations around the property.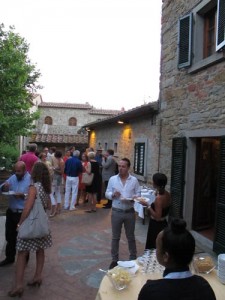 Fabrizio Bianchi Chardonnay 2011 IGT Toscana – Really, really nice, very classic Chardonnay, nice flavor, not too heavy or light.  Served with different stations of appetizers.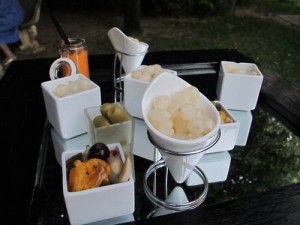 We were able to get a glimpse of the newly restored wing where I hear there are some pretty amazing spa rooms.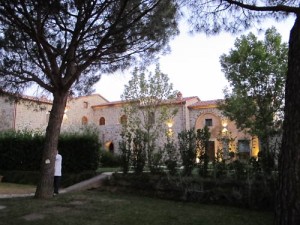 The dinner was held outside under tents surrounding the pool area.  It was absolutely lovely, fancy enough for a wedding but perfect for a very warm Tuscan wine tasting evening.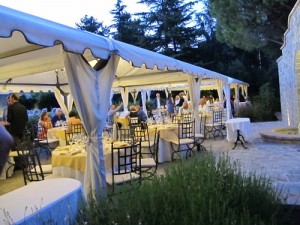 Marco showed people to their tables as they slowly began to arrive for dinner.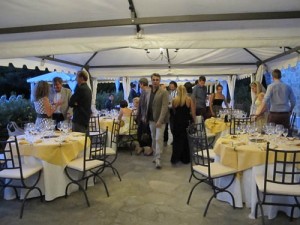 It was just a stunning setting to watch the sunset from.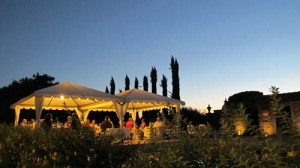 We had the usual introductions from both the owner of Corte dei Papi and a representative of the winery who both gave us an overview of what we would be tasting tonight.
Chianti Classico 2011 DOCG – On the nose dried cranberry, cloves, mint, graphite and dried cherry, In the mouth tomato, dried red fruits, chalky, bitter dark chocolate powder. Served in a bed of crusty casareccio bread with mushrooms and smoked scamorza cheese.
Chianti Classico Riserva 2010 DOCG – On the nose chalky red fruit, sweaty socks, eucalyptus. In the mouth slightly hot, bright, chalky, a mid-palate sting. Went really well with the food, made it seem much more sophisticated. Served with garganelli pasta with typical meat ragu sauce.
In between courses we had beautiful views of the property as we sipped the wines that somehow seemed to continue flowing.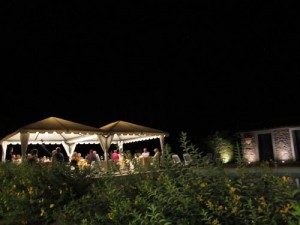 Nemo Cabernet Sauvignon 2004 IGT Toscana – On the nose clove, cigar smoke, a little mushroom, leather, persimmon, woody, plastery, selvatic herbs. In the mouth plummy cherries, deep flavors, blackberry, graphite and citrus zest.  Served with young rooster stuffed and made in the old way with potatoes with bacon of  cinta senese pork.
Yum!  What a great dinner in a gorgeous setting!
After dinner we had a chance to sit around with the Del Brenna family, artisan jewelers and proud sponsors of the Wine, Shine & Dine events. We may have even closed the place down!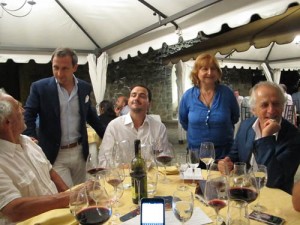 Before leaving David, owner of Corte dei Papi gave us a little tour of some of the new spa suite rooms.  Can you say absolutely lovely and fabulous?  What a gorgeous property with truly 5 star service.  I look forward to coming back!