Recap: Wine, Dine & Shine Folonari at La Loggiata!
This week's Wine, Shine & Dine event in Cortona on Thursday, May 22, 2014 featured Chianti Classico winery Folonari with special guest, Giovanni Folonari!
The free tasting started at 4:00 p.m. at the Molesini Wine Shop in our beautiful Piazza Repubblica in a very warm (finally!) lovely afternoon.
The wines they were pouring at the free tasting were…
LE BRUNICHE CHARDONNAY 2012 IGT TOSCANA
CABREO LA PIETRA 2011 IGT TOSCANA
CHIANTI CLASSICO NOZZOLE 2011 DOCG
CHIANTI CLASSICO NOZZOLE LA FORRA RISERVA 2009 DOCG
CABREO IL BORGO 2010 IGT TOSCANA
PARETO 2009 IGT TOSCANA
Inside the Molesini Wine Shop, for those in the know, Paolo was pouring some very, VERY special wine.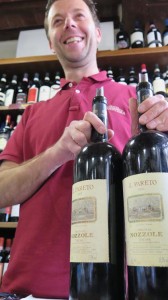 Soon it was time for us to head up to the restaurant for the wine paired dinner.  With the regal Cortona town hall, it made for quite a beautiful setting.
Tonight's dinner was being hosted by La Locanda nel Loggiata, who are becoming quite well-known for their amazing dishes at these events.
Le Bruniche Chardonnay 2012 IGT Toscana – Left "sur lie" for around 3 months and goes through malolactic fermentation and aged in the bottle. On the nose: Lemon, tart dried apricot, blueberry, and slight candied pinapple.   Taste: Pineapple, buttery, caramel Granny Smith apple, salty. Served with a "Bon-Bon" made of meat filled with pureed celeriac plated with porcini mushrooms and on a raspberry sauce.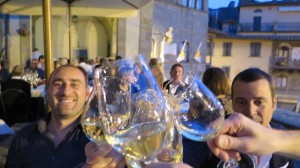 Campo al Mare 2011 Bolgheri Rosso DOC – Aged in French barrels for 1 year, Base of Merlot 60% with Cabernet Sauvignon 25 and Cabernet Fran 10 Petit Verdot 5. On the nose: Dark notes of graphite, dark deep berries, dusty.   Taste: Dusty blueberries, bitter dark chocolate, blackberries, frutti di bosco, chalky tannins. Served with homemade roughly cut pasta with a veal ragu topped with fried artichokes.
Cabreo Il Borgo 2010 IGT Toscana – 70% Sangiovese & 30% Cabernet. The grapes are united and matured in French oak 30% new, 40% 1 year old and 30% 2 years old decanting every 3 months for a total of up to 18 months. On the nose: Five spice,cinnamon, liquorish.   Taste: Charcoal, red ripe berries, great viscosity that coats your mouth with a long finish. Served with Entrecote of veal braised with a lettuce and pea cream.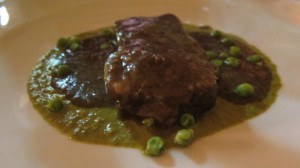 Cabrea 2000 – jerobaom size – On the nose: earthy, sulphur, red berries, slight liquorish, In the mouth: Ripe red berries, slight dark chocolate, finishes quite fast.
Vinsanto del Chianti Classico Nozzole 2007 DOC  – Aged for 4 years in barrels served with filo dough with a mouse and zabaione.
Marco Molesini, host of the event, worked the tables and made sure everyone had enough wine (believe it or not we did!) and enjoyed the evening. Which we did.
It also was a special evening for Marco, at midnight he was celebrating his birthday and we were all celebrating the The Lions Well Pub!
Happy Birthday Marco!!!