Recap: Wine, Dine & Shine Isole e Olena Dinner at Taverna Pane e Vino!
Last week's Wine, Shine & Dine event in Cortona featured Chianti winery Isole e Olena at Taverna Pane e Vino.  The evening began with a free wine tasting in a very crowded Piazza Repubblica.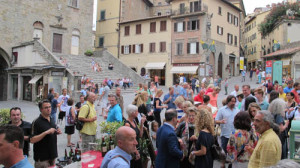 Marco Molesini helped pour wines and greeted everyone who came by to taste the wines.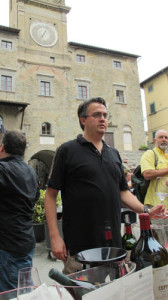 There was a nice line up of wines, all from the Isole e Olena estate near Castellina in Chianti.
Paolo de Marchi is making Chianti but with a different ideal in mind. Early on when the Chianti formula was made by Baron Ricasoli, Canaiolo was used as a blending grape to compliment the rough Sangiovese flavors. Because they required some aging he later used a more ready to drink formula, blending the white grape Malvasia with the Chianti which became the D.O.C. standard forcing producers to use a white grape to blend with the Chianti clone of Sangiovese.  The wine was not as good as the fully red blend, became widely mass produced and led to the decline of Chianti being known as a good wine. Many producers decided to use a different grape to blend to try to bring the quality back up.
Paolo originally thought to use Syrah or Cabernet to blend with his Chianti, meaning he would be making a Chianti outside of the D.O.C. that would have to be labelled as a Super Tuscan IGT. He later decided Cabernet would be too overpowering and that Syrah would be the perfect soft compliment to his Chianti and planted both varietals on his estate. By the time the Syrah was ready he had changed his mind again, beginning to feel strongly that what was required was to build on the strengths of the Tuscan soil and grapes and that better Sangiovese clones needed to be used. His idea is that anyone can use other grapes to appeal to the international market but to improve the clone of Sangiovese (Chianti's main component) would be something special, local, and uniquely Tuscan.  Thus his Cepparello which is a 100% Sangiovese that has to be labelled as a red table wine since the D.O.C. doesn't allow Chianti to contain 100% Sangiovese.
What did he do with the Cabernet and Syrah?  Create some single varietals that have been highly rated by many of the top wine experts.
His passion to the commitment of building upon the uniquely Tuscan Chianti has paid off, he exports to about 26 different countries and is considered to be an expert on Sangiovese.
The wines from Isole e Olena tasted at the free tasting were:
Chardonnay Collezione 2011 IGT
Chianti Classico 2010 DOCG
Cepparello s009 IGT
Sarah Collezione 2007 IGT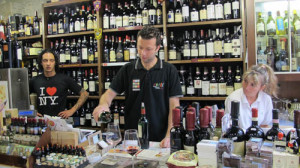 For those of us "in the know", there were a couple very special wines being poured by Paolo Molesini inside of the Molesini Wine Shop.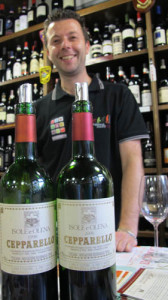 We had the pleasure of trying the Cepparello 206 IGT as well as the Cepparello 1998 IGT vintages.  Cepparello is 100% Sangiovese, the same grapes as Chianti is made but to be a DOC wine it has to be blended with Malvasia. Both wines are still tasting quite nicely and interesting to see how as it ages it softens and has a rounder profile.
Soon it was time to head to the wine dinner being held at Taverna Pane e Vino where we walked past the Cortona Commune (town hall) on the way.
Cortona has so many events going on during the summer months.  Tonight there was live jazz out in the piazza.
Taverna Pane e Vino is located in another one of Cortona's larger piazzas, in front of the Teatro and MAEC museum. A little aperitif was being served in front of the restaurant as people started to arrive.
Once everyone had arrived and were seated Marco Molesini welcomed everyone, introduced chef and owner Arnaldo who explained the courses we would be eating and then our special guest of the evening, owner and winemaker Paolo de Marchi.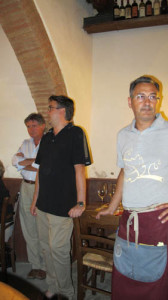 Paolo gave us a quick overview of his winery and the philosophy that goes into his wine-making process.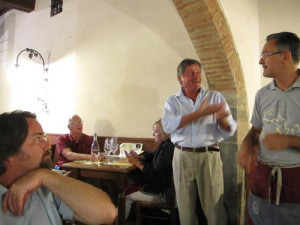 There were quite a few glasses on the table waiting to be filled…
Chardonnay 2011 IGT –  On the nose: classic Chardonnay, buttered popcorn, white peach, oak.  In the mouth: similar to a California Chardonnay, honey, kefir lime leaves, lemon, Granny Smith Apple, toasted notes. Served with Torta al Testa, flat bread cooked on a stone stuffed with shredded Chianina beef, resembling the flavors of fajitas.
Chianti Classico 2010 DOC -80% Sangiovese, 115% Canaiolo, 5% Syrah – On the nose, tart, dry red berries, smokey.  In the mouth – chocolate with red raspberry, light amarena cherries, with a bitter finish, said by a winemaker friend, old wood.  Served with Eggplant Parmesan that unfortunately undercooked.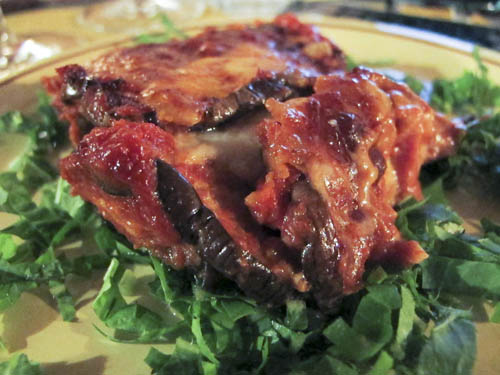 Cepparello 2009 IGT – Very green, slightly gasoline with red berries, selvatica herbs, dried berries, violet. In the mouth, cooked fruit, Chocolate, a little smoky tobacco. Served with the original porchetta, pork stuffed with spices cooked in a wood oven served with vegetables.
Cabernet Sauvignon 2007 IGT – 90% Cabernet,10% CabernèFranc.  On the nose: Green powdery pepper,maybe woody powder., Ripe red fruits, gun powder.  Taste  of seasonal pecorino cheese.
Vin Santo 2004 DOC –  On the nose: Very dried fruits , In the mouth, dried apricots, sherry, Ice cream with peaches served with a marmelade of peach and lavender.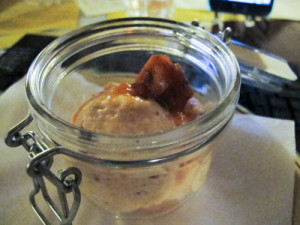 I had the opportunity to speak one on one with Paolo de Marchi who was quietly charming, informative and very humble, considering his wine is shipped to over 26 different countries around the world.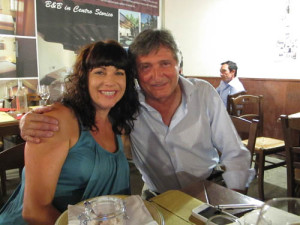 All in all a great wine dinner if you only consider the wine.  The food on the other hand was quite disappointing considering for some pretty basic and inexpensive dishes (eggplant parmesan, porchetta) the high cost of the tasting dinner.