Recap: Wine, Dine & Shine Mastrojanni Dinner at Osteria del Teato!
This week's Wine, Shine & Dine event in Cortona on Thursday, September 5, 2013 featured award winning Brunello winery Mastrojanni and special guest Riccardo Illy, who besides owning this amazing wine estate in Montalcino also owns Illy Caffè!
The free tasting started at 4:00 p.m. at the Molesini Wine Shop in our beautiful Piazza Repubblica.
These were the wines we tasted in the Piazza…
ROSSO DI MONTALCINO DOC 2011
S.PIO IGT TOSCANA 2010
BRUNELLO DI MONTALCINO DOCG 2007
BRUNELLO DI MONTALCINO VIGNA LORETO DOCG 2008
BRUNELLO DI MONTALCINO SCHIENA D'ASINO DOCG 2007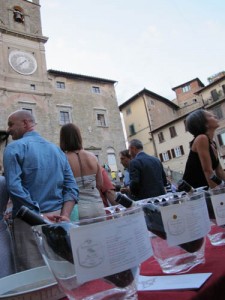 Mastrojanni wines have truly amazing flavors that continue softly over your palette and stay with you for quite a while. I couldn't wait to try the wine and food pairings with dinner!
As usual Paolo had a little something special he was pouring inside of the wine shop for those in the know. A single vineyard cru Brunello from 2007.  Very, very nice.
At 8:15 we were highly encouraged to make our way to Osteria del Teatro for the wine paired tasting dinner.  After everyone slowly made their way in and were seated, Marco Molesini, chef Emiliano Rossi and Riccardo Illy made a presentation and explained the menu and wines for the evening.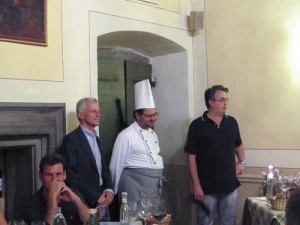 Riccardo Illy was kind enough to give everyone a little background on himself, the family business Illy Coffee and talked about what we were all here for tonight, one of their newer investments, the Mastrojanni estate.
Let the tasting/dining begin! Open, open, open!!!
First up on the tasting of wines…
Rosso di Montalcino DOC 2011 – On the nose: Slight herbal notes, light cacao. In the mouth: Barnyard, extracted red berries, slight leather, tobacco and dark chocolate. Served with a pecorino in a "crust of gold" with a confection of figs as well as "candidum" of sheep's cheese with a confection of bitter orange.
Also served with skewers of grated figs and prosciutto from Pratomagno.
The tables were filled with glasses in preparation for all of the wines and various courses, a pretty impressive set up!
San Pio IGT Toscana 2010 (20% Sangiovese, 80% Cabernet Sauvignon) – On the nose:  Herbal notes, balsmaic.  In the mouth:  Dried cranberries, dark bitter chocolate, nice acidity, goes extremely well with the dish it was paired with and tasted like dark chocolate butter in the mouth.  Served with tagliatella of Domori chocolate with a wild hare ragu. The dish is considered to be a "dolce forte", an old Tuscan dish usually made with wild game that is considered sour and mellowed out with chocolate in the recipe.
We were lucky to have a professional sommelier serving us the various tastings.  Funny enough he was born and raised just outside of Cortona!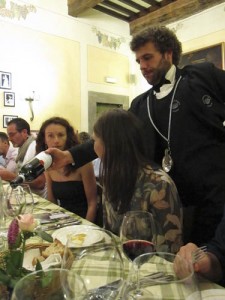 Brunello di Montalcino DOCG 2008 – On the nose: Coffee, tobacco, slight eucalyptus, slight berry.  In the mouth:  Deep berry flavors including black raspberries and blueberries, cocoa powder, leather and a little liquorice. Served with pork filet crusted with with Illy caffe and pureed apple.
Botrys Moscadello di Montalcino DOC – A lovely sweet dessert wine that is seriously the nectar of the Gods. A blend of moscato, malvasia and sauvignon aged for 18 months in French oak and small barrels. Served with raviolini made (obviously!) with Cafe Illy with white milky chocolate sauce. YUM!
 Seriously a fantastic evening with brilliant wines and another well done pairing by chef Emiliano Rossi of Osteria del Teatro.