Soffocone di Vincigliata IGT 2007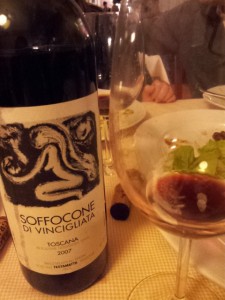 When art makes wine.  With a little sex thrown in.
Soffocone di Vincigliata comes from Azienda Agricola Testamatta in the hills of Fiesole, just above Florence.  The owner, Bibi Graetz, of Italian/Norwegian descent, is an artist who only started making wine in the late 90's with the help of winemaker Alberto Antonini who worked with him for four years using Graetz's family land.  Antonini has worked with Antinori, Frescobaldi, E & J Gallo, Altos Las Hormigas, Concha y Toro, just to name a few.  By 2006 Graetz had Robert Parker giving him very high accolades and was on the map for his Super Tuscans.
A little more interesting is the label and name of this wine which of course is features artwork by Graetz.  Vincigliata is the name of the vineyard where apparently amorous couples are known to "park" at.  Soffocone is Florentine dialect for fellatio.  And thus the artwork on the label which was actually banned in the U.S. until it was revised. Scandalous!
Breaking it down:   The Soffocone di Vincigliata comes from the single vineyard Vincigliata and is a blend of 90% Sangiovese, 7% Canaiolo and 3% Colorino and aged in oak for 15 months.
Our group Tasting Notes:
Nose:  Graphite, kerosene, hint of dry red berries, took a while to open up
Taste:  Dry red fruit, heavy dark chocolate, black pepper, hints of blackberry.  Velvety mouth feel with lingering flavors.
The Nitty Gritty:  This is a really enjoyable wine with a very satisfying mouth feel. Really!  And I'm not just alluding to the name…or am I?  When I tried Soffocone I had no idea who the producer was but now it makes so much more sense.  I sampled a few of Graetz's wines at a Tuscan wine event last year and Soffocone is just one of the many highly rated and amazing wines from Testamatta. It's no wonder Soffocone is a crowd pleaser, Wine Spectator even thought it was nice enough to give it 92 points!