Recap: Wine, Dine & Shine La Tunella Dinner at Locanda nel Loggiato
This week's Wine, Shine & Dine event in Cortona on Thursday, July 25, 2013 featured Friuli/Veneto Winery La Tunella.
Cortona was absolutely packed with people, the Cortona Mix Festival is currently going on and there was a group of egyptian dressed people singing on the steps of the town hall.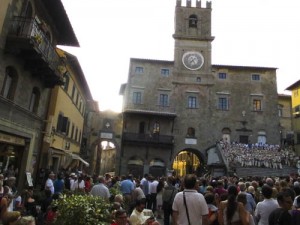 Everyone was desperately trying to beat the 90+ degree weather and the cool wines being poured were a welcome refreshing relief.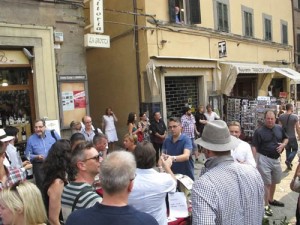 I even spotted one of our infamous "wine dogs" at the tasting, Laga from Leuta Winery.
The wines poured during the free tasting in front of Molesini Wine Shop in Piazza Repubblica were:
Pinot Grigio 2012 DOC Friuli Colli Orientali
Sauvignon 2012 DOC Friuli Colli Orientali
Friulano Col Livius CRU 2011 DOC Friuli Colli Orientali
Ribolla Gialla Col de Bliss Cru 2011 Friuli Colli Orientali
Merlot 2011 DOC Friuli Colli Orientali
The dinner was held at one of our Cortona favorite restaurants, La Locanda nel Loggiato, which sits above Piazza Repubblica and has a beautiful view overlooking the square and the commune (town hall).
Guests were greeted with a glass of Il Mille 2011 Spumante Brut Millesimato – 50% Pinot Nero and 50% Ribolla Giallo, and were invited to partake of the appetizers being served.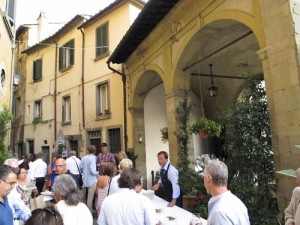 Soon we were asked to be seated. Locanda nel Loggiato is one of my favorite places to be in the summertime, nothing beats dining outside on a upper loggia overlooking the beautiful Piazza Repubblica and the town hall.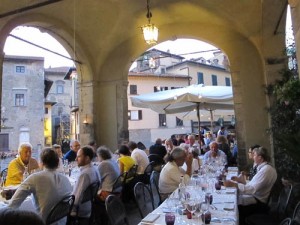 If you look close you might recognize some of our Cortona celebrities, Ed and Francis Mayes who often pop into the wine dinners when they are in town.
Marco Molesini introduced the winery, La Tunella, and a representative from the winery gave us a brief introduction including showing us a map of their location and vineyards up in the Friuli and Veneto area of Northern Italy.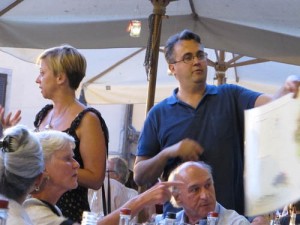 La Tunella production is 70%  white wines, and they are now 3rd generation producing wines. The D.O.C. Friuli Colli Orientali appellation mostly is situated on hills. There are mountains in the north and the sea in the south. A lot of minerality can be tasted in the wines.
Pinot Grigio 2012 DOC Friuli Colli Orientali –  One the nose: Slight apples and sweaty socks,very light and mineral. In the mouth: a little tart, dry, slight caramel flavors, light golden delicious apple, little bit of honey. Served with mussels and crustacean soup with buffalo mozzarella, a reduction of tomatoes and basil flavored oil, really nice. Also served with "hearts of the sea", made like a sformatino, with a tartar of chopped avocado, beans, tomatoes and raw prosciutto.
Sauvignon 2012 DOC Friuli Colli Orientali – On the nose: sweaty socks and cat piss, eucalyptus. In the mouth, really tart, slight apple, definite cat piss again, with a slight caramel finish. Served with little green gnocchi and seafood.
The Cortona Mix Festival was going on all around us.  There was a video being played on the town hall in our piazza and in the next one there was live music.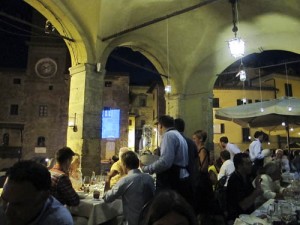 And through it all, they kept the wine flowing.
Cabernet Sauvignon 2011 IGT Venezia Giulia – On the nose, green pepper, cooked fruit.  In the mouth, berries, green and prunes. Served with medallions of monkfish with shrimp and vegetables.
The service at this restaurant is just amazing.  Not only are they always on the ball but they remember even those who have dietary issues.  Here two of my favorite waiters are preparing the next wine.
Verduzzo 2011 IGT Delle Venezie – Light, sweet dessert wine served with the "Secret of the Chef".  I don't know, but you tell me what you think it resembles…
All in all a lovely night out under the stars with some amazing food.  Grazie tutti!