Montalcino
I had the pleasure of meeting Riccardo Talenti and tasting his newly released Brunellos at Benvenuto Brunello 2013. Besides being very charming and approachable (I'm talking about Riccardo!), I was very impressed with the new Talenti Brunello releases. Here's the skinny: Talenti Brunello 2008 – Not a lot on the nose, but it was the beginning of the day and the bottle had just been opened.  In the mouth there was red fruits, hints of orange and definite cocoa powder.  The fruit is bright enough on this one that it will be...
read more
I had the absolute pleasure to attend THE Benvenuto Brunello 2013 event this past Monday in Montalcino and taste many of the newly released Brunellos.  WAY too many to talk about in one post but I promise to report all my findings soon. As the icing on the cake we stopped in at Casanova di Neri on our way back to Cortona, where I literally was RUINED for all other Riserva Brunellos 2007.  And trust me, I tried some really good ones. All of the Casanova di Neri Brunellos are fantastic, from the Rosso di Montalcino to the Brunello to the Tenuta...
read more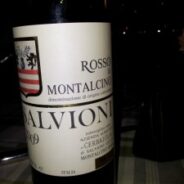 Thank goodness I'm a wine blogger. Otherwise I don't know what excuses I have for all the crazy great wine I imbibe. Take Friday night, for instance.  Mutual friend comes into town.  Dinner plans are made, small group of friends gather including our Cortona wine shop owner, Marco Molesini. Which in itself is great because Marco is fun. But Marco also likes wine.  Good wine.  And he has a wine shop.  And if you own a wine shop why would you every order wine off a menu? Yes, it does suck to have friends like that if just for the...
read more