Wine, Dine & Shine Avignonesi Dinner at Pane e Vino
This week's Wine, Dine & Shine started in Piazza Repubblica with a free tasting in front of the Molesini Wine Shop.  After a few days of rain everyone was thankful to have a beautiful, sunny and warm afternoon to be able to come out and enjoy the wine tasting.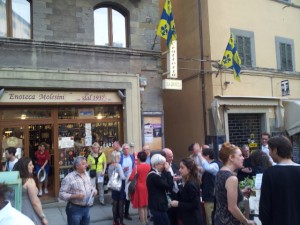 In the Piazza Avignonesi was pouring their Prosecco Col Dorato from Veneto, the 2010 Vino Nobile di Montepulciano, their 2010 Grifi which is a blend of Sangiovese and Cabernet, as well as their 2010 Desiderio Merlot.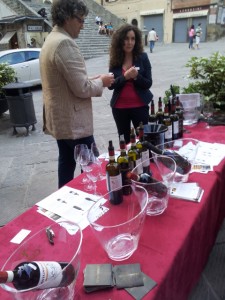 There were a few local celebrity sightings during the outdoor tasting, here we have a couple of our own Cortona winemakers comparing notes…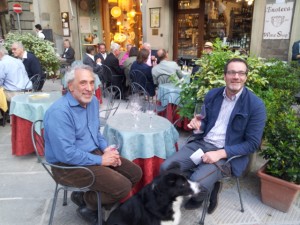 …and even our very own tuscanWINEnotes diva blogger sampling the wines!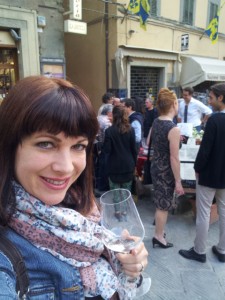 At 8:00 we adjourned to Taverna Pane e Vino, just a short walk away in Piazza Signorelli.  As we arrived, Marco Molesini greeted all guests with a welcome glass of the Avignonesi Prosecco Col Dorato.
Typical Tuscan crostini were served as guests slowly made their way in to be seated.
When everyone was finally at their tables Arnaldo (owner of Pane e Vino) and Basil (son of the owner of Avignonesi) both welcomed us, introduced the menu and talked a bit about the wines.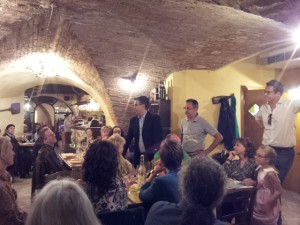 Marzocco Cortona D.O.C. Chardonnay 2012, Barrel aged, pleasant on the nose with notes of pineapple, apple, wet socks, wood, and cotton candy. In the mouth fruity, spicy pepperoncino, leaves a bitterness in your mouth, not full flavored but not bad.
The wine was paired with an appetizer of toasted bread with ricotta cheese on top along with a baked formed Pecorino cheese with fava beans and crispy prosciutto.
Vino Nobile di Montipulciano 2008, made up of 85% Sangiovese, 10% Canaiolo Nero & 5% Mammolo grapes. On the nose prune, acetone, sulphur and herbal.  In the mouth
dry cherries, bitter, slate-ish and flat, fell right off the pallet.  Not my favorite.  This wine was paired with handmade pici pasta with a duck ragu.
Grifi 2010 IGT, made up of 60% Sangiovese and 40% Cabernet Sauvignon.  On the nose dried red fruits and black pepper.  In the mouth flavors of cherries, tannic with bitter chocolate.  This wine was paired with an amazingly flavored boiled meat and onion dish.
2005 Desiderio Magnum, made up of 85% Merlot and 15% Cabernet Sauvignon. On the nose notes of dried cherries, eucalyptus and brown sugar.  In the mouth flavors of candied orange, chalky and sweet.  Delicious!
I'm a bit disappointed in the way Avignonesi is going with their winemaking since the winery was purchased a few years ago.  Thank goodness there are still some of the older vintages still around like the 2005 Desiderio!  It was interesting tasting and the food pairing was very well done.