Wine, Dine & Shine Castello di Ama Dinner at Osteria del Teatro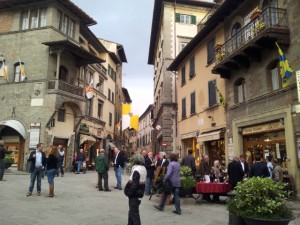 This week's Wine, Dine & Shine started off in Piazza Repubblica with a lucky sunny break during a very stormy day.  Castello di Ama was the featured winery being tasted in front of the Molesini Wine Shop.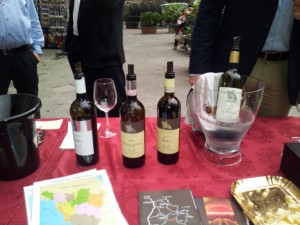 The owner and one of the marketing representatives of Castello di Ama poured the tastings and gave detailed information to all attendees about their wines, most of which were nicely made Chiantis.
At 8:00 p.m. the event was moved to Osteria del Teatro, located in the heart of Cortona and probably one of my favorite restaurants in town.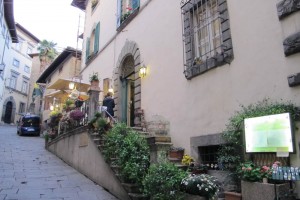 Everyone slowly filed in, including a huge group of viticulture students who were there with their professors to attend the tasting dinner.
The tables were laid with care…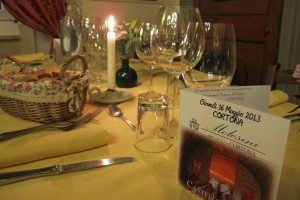 Once guests were seated, the dinner and wines were introduced by our hosts, Marco of Molesini Wine Shop, Emiliano of Osteria del Teatro, and the owner of Castello di Ama.
The wines served with dinner were:
Castello di Ama Al Poggio Chardonnay IGT Toscana 2011 – Chardonnay and Pinto Grigio. 80% Chardonnay. On the nose light, notes of toffee and liquorish. In the mouth, banana, a little pinapple, some herbs, dry, nice, preferred over the 2010 vintage.  This wine was served with a small appetizer plate of asparagus wrapped in bacon on some aioli.
Castello di Ama Rosato IGT Toscana 2012 – A rose made from the same grapes as the regular chianti, and according to Marco, the best rose in Italy. On the nose dry, just slightly fruity, in the mouth bright and a bit bitter, but with food, dry, slightly fruity again,and nice, with hints of strawberries.  This wine was served with a slice of stuffed turkey with olives and dried tomatoes.
Chianti Classico Castello di Ama DOCG 2010 –  A nose of deep berries, blue, plum, and cotton candy, in the mouth red berries,  paired excellently with a pici pasta and a mushroom and Chianina beef sauce.
Chianti Classico Castello di Ama DOCG Riserva 2004 – Oh my.  On the nose dried plums, sulfur and asphalt.  In the mouth velvety, very fine grain tanins, dark bitter chocolate. dried blue berries, really really nice, slightly mineral and chalky.  Served with free range pork oven roasted in lard.  Yum.
Vin Santo del Chianti Classico DOC 2007 – Very nice with notes of orange, served slightly chilled.  This was paired with a cream caramel with slivered almonds.
Once again another decadent and impressive pairing evening, Osteria del Teatro did a fabulous job and the wines from Castello di Ama were very good and perfectly complimented with the dishes they were served with.
Off to recover for next week!