Wine, Dine & Shine Castiglion del Bosco & Ferragamo Dinner at Ristorante Tonino
This week's Wine, Dine & Shine featured Montalcino winery Castiglion del Bosco along with very special guest, owner Massimo Ferragamo, also quite famous for being in the fashion industry and the son of Salvatore Ferragamo.
The evening started off with the free tasting event in front of the Molesini Wine Shop and apparently quite a few other people had heard about it and were there to taste the wines!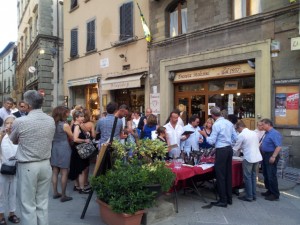 I've been a big fan of Castiglion del Bosco for some time and I was very excited to be part of a tasting dinner featuring their wonderful wines.
We'd been having a very strong heat wave and it was still so hot out they had to use cold water to keep the wines at an optimum temperature for tasting.
The line up of wines was impressive, Castiglion del Bosco was even pouring their single varietal "Drago" Brunello!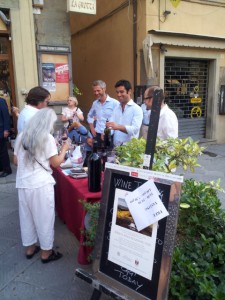 Unbeknownst to me, I was literally rubbing shoulders with Massimo Ferragamo, owner of Castiglion del Bosco estate and director of Salvatore Ferragamo USA.  As I was introduced I couldn't help but tell him I already knew quite a bit about him, having researched him on the internet which really sounds like stalking but I swear, it was purely for info for the wine blog!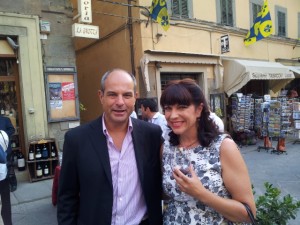 What a very humble and nice man!  Massimo spent a while talking with me and continued to talk with others attending the tasting.  Massimo was very entertaining and definitely charming.  The fact that he was happy just to meet and talk with everyone really impressed me considering he hobnobs with celebrities.
All too soon it was time to leave the free tasting and head for dinner.  I guess that means I have to put down my wine glass, at least for a few minutes. <sigh>
The tasting dinner was being held at Ristorante Tonino's, located on the edge of Cortona with sweeping views of the Val di Chiana.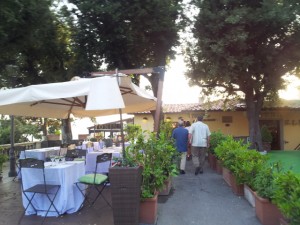 Marco Molesini welcomed guests with a glass of Castiglion del Bosco Chardonnay.
Castiglion del Bosco CdBianco Toscana IGT Chardonnay – Made from 100% Chardonnay grapes this wine was a very light style and slightly aromatic.  It was the much needed refreshingly cool drink on this very, very warm evening.  It drank nicely.
Appetizers were served on the outdoor patio with absolutely stunning views.
There were an array of appetizers to choose from both on the outdoor patio as well as inside as waiters slowly circled the room with tempting plates.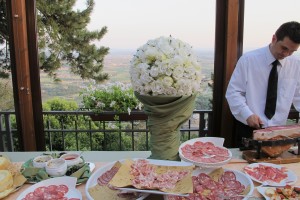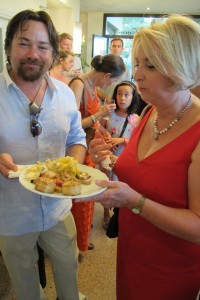 You never know who you will see at these events, tonight I ran into another local favorite winemaker, Lorenzo of La Braccesca, who makes both Bramasole Cortona Syrah and Santa Pia Vino Nobile, two local wines that I really like.
We were seated outside on another terrace with beautiful views, although there were so many people that the inside dining room was also filled with the rest of the wine tasting group.
We had a table full of friends, hand picked by our friend Lawrence, at the end of the table in preparation for something VERY special he was planning on doing later this evening.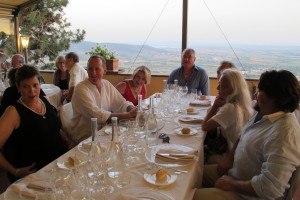 Marco introduced our special guest, Massimo Ferragamo of Castiglion del Bosco, and Massimo told us a little about himself and the wines we would be tasting tonight.  The estate is one of the oldest in Tuscany and was one of the wineries that helped create the Brunello di Montalcino denomination.  Massimo Ferragamo bought the estate in 2003 and it took 12 years to go from start to first vintage release.
The first course was a little satchel with a heart of buffalo mozzarella and eggplant on a puree of Sicilian datterini tomatoes sprinkled with crystalized basil.  Yum!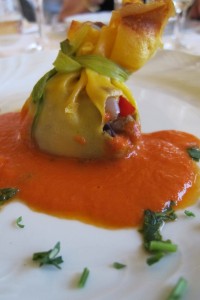 Served with…
Castiglion del Bosco Rosso di Montalcino 2011 DOC – On the nose, red berries, selvatic herbs.  In the mouth, slight clove flavors, light ,blueberry and red currant. Very nice, especially considering it is just a Rosso di Montalcino.
The next course was pici pasta with a very savory ragout of guinea fowl and fresh pachino tomatoes.  Delicious!
It was served with…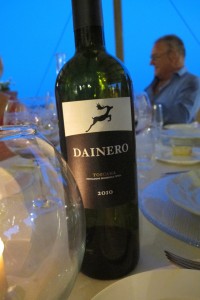 Castiglion del Bosco Dainero 2010 IGT Toscana – Made of moslty Merlot from the Tuscan Maremma coast, with a tiny bit of Sangiovese from the Montalcino estate.  On the nose:  definitely merlot, black pepper, dark berries and in the mouth, not extremely heavy but full flavored.
Marco came over to check on us and especially on Lawrence, who was preparing to ask a very, very important question tonight that would be life-changing!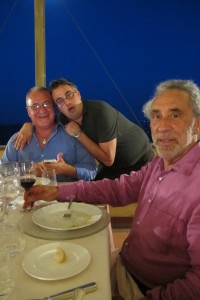 But first, another course!  This was filet cooked in a crust of salt. Unfortunately it was mediocre but the wine served with it was absolutely delicious and made me forget I even had anything on my plate.
Castiglion del Bosco Brunello di Montalcino 2007 DOCG – On the nose rose, ripe red berries, moist earth, asphalt, a little hot on the nose, but not in an alcoholic way.  In the mouth very balanced over the palate, dried herbs, dried red berries, a little prune on the finish.  100% Sangiovese, with power, finesse, elegance and perfect match with food although I am more than happy to drink this bad boy all by his lonesome.
And now, it was time for a very, very special event.  Our good friend Lawrence had something very important to ask his girlfriend, Bronwyn, something that a few of us already knew was going to happen and were very excited to be a part of.  Watch the video and see for yourself.
She said "Si!"  A big congratulations to Lawrence and Bronwyn, we are so happy for you!!!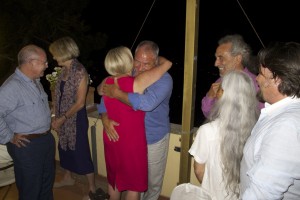 …and also VERY glad to have been a part of this very special moment!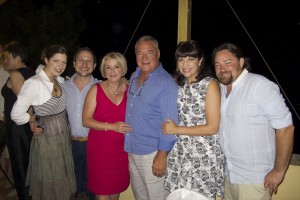 Del Brenna Jewellery was not only on hand to show and "taste" their jewelry with over 20 ladies including yours truly, wearing the Del Brenna handcrafted pieces, but they also designed the engagement ring Lawrence proposed to Bronwyn with.  Beautiful and one of a kind!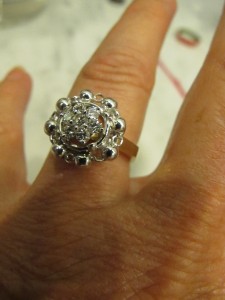 Wishing you both a lifetime of happiness and we look forward to being part of it!!!