Wine, Dine & Shine Fabrizio Dionisio Dinner at Taverna Pane e Vino
This week's Wine, Shine & Dine featured our very own Fabrizio Dionisio who makes one of my favorite Cortona Syrahs.

I caught up with Fabrizio at the free tasting in front of the Molesini Wine Shop while sampling all of his newest vintages.
Fabrizio is a very modest soft spoken lawyer turned winemaker who still divides his time between Rome and his family estate just outside of Cortona.  He makes only Syrah wines, about 25,000 bottles in total per year and is quite good at it!
Marina, Fabrizio's winery manager, and Marco Molesini welcomed guests attending the event and offered samples of all of Fabrizio's Syrahs.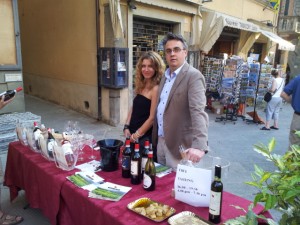 At 8:15 p.m. the event meandered over to Taverna Pane e Vino and everyone was treated to a taste of the first wine which was a Rose.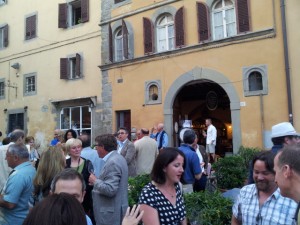 Rosa del Castagno 2012 Toscana IGT – Made with 100% Syrah grapes, this wine is vintified like a white is, the grapes are destemmed and gently pressed and only the free run juice is fermented.  The result is a crisp, and slightly aromatic very easy drinking wine.
Arnaldo, Fabrizio and Marco welcomed us and gave us a brief overview of the evening, introducing both the menu and the wines we would be tasting.
We tasted the following wines with dinner…
Castagnino Syrah Cortona D.O.C. 2012 – Aged in stainless steel only, it is very aromatic on the nose as well as floral with of dusty red berries, In the mouth, a little chalky, quite young and fresh. Served with a delicious baked onion filled with Pecorino cheese and bacon.  Yum!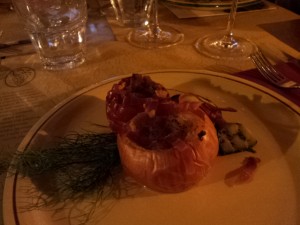 Il Castagno Syrah Cortona D.O.C. 2010 – On the nose very dry, with hints of pencil lead.  In the mouth herbacious, chalky, finishes quickly, not as powerful or fruit forward as the 2009 vintage, although it seems 2010 is this way even with other wines I have tasted. Still a very nice Syrah. Served with tagliatelle with a white goose and mushroom ragout.
Cuculaia Syrah Cortona D.O.C. 2009 – In the nose, hints of graphite, red fruit and clove.
In the mouth chalky, graphite, darker fruits but not overtly fruity, reserved, very nice.  I really, really like this wine.  Served with a baked veal loin with roasted vegetables.
Dessert was unusual and delicious, homemade fior di latte ice cream drizzled with olive oil with just the essence of orange.
After dinner everyone lingered, it was quite the local night and I even captured a meeting of the minds, three of Cortona's winemakers discussing, well, whatever winemakers discuss after a decadent wine filled meal!