Wine, Dine & Shine Livio Felluga Dinner at La Locanda nel Loggiato
This week's Wine, Shine & Dine event featured Livio Felluga, a large award-winning winery from the northern Friuli area of Italy.
The wine tasting begin in Piazza Repubblica in front of the Molesini Wine Shop.  Marco Molesini and a very handsome representative from Livio Felluga poured tastes of the wine.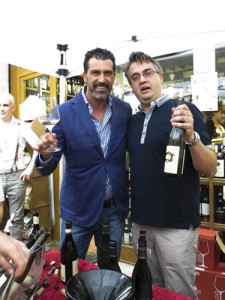 It had rained cats and dogs earlier in the day but luckily stopped just an hour before the tasting started.  They still had prepared for it, just in case, by putting up a covered area but by the looks of it I think it would have been hard to fit this crowd underneath!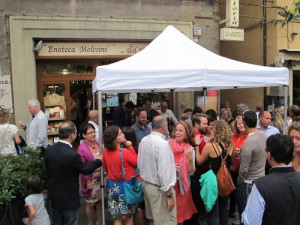 I've tasted some of the wines from Livio Felluga before and always enjoyed them.  They do mainly whites but they were tasting one red as well and all of them were quite nice, including the Sauvignon Blanc which I am not usually a fan of.
Paolo had a little special treat for us inside, a taste of Livio Felluga's prestigious Terre Alte wine, which was just rated "Best Italian Wine of the Year" by Gentlemen magazine.  This wine is a blend of Sauvignon Blanc and Pinot Bianco grapes.  It is really good.
The dinner portion of the evening was held at La Locanda nel Loggiato, just above Piazza Repubblica near to where we were tasting at.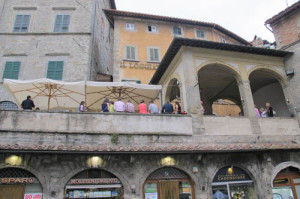 I was so happy the weather had cleared up, this restaurant is really good but even better when you can sit outside with a view of the town!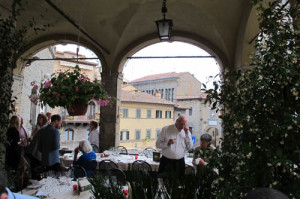 They welcomed us with appetizers served buffet style.
 A nice little mix of fried shrimp, breaded mussels and breaded calamari.
 Served with…
Sharis 2012 IGT Delle Venezie – Chardonnay – Ribolla Gialla. Nice nose of pineapple and hints of passion fruit.  In the mouth, dry, a little bright but changes over the palette to light apple and caramel flavors.
Marco Molesini introduced the winery and although owner Maurizio Felluga was with us at the dinner, he chose one of his representatives to give the winery presentation.
Livio Felluga was started in the 1950's after World War II.  They had to revive the vines which had been abandoned during the war.  The area of Rosazzo, where the first vineyard was purchased, eventually became known as one of the best grape growing areas of Friuli.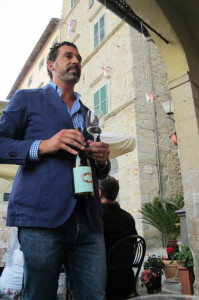 But enough about the history.  Let's taste the wine!
Pinot Grigio 2012 Friuli Colli Orientali D.O.C. – Really pleasant nose, honey, slight hints of apple. In the mouth, absolutely lovely with hints of caramel, apple, spearmint and pine. Served with delicate carpaccio of swordfish with a vinegrette of ginger on a bed of thinly sliced cucumber.
 Also served with a cream of potato soup with baccala and slices of truffle. Delicious!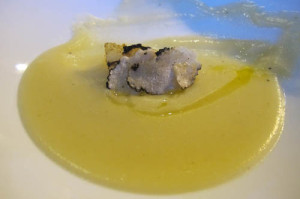 The wine was kept flowing even between the courses, this was going to be an excellent night!
Illivio 2011 Friuli Colli Orientali D.O.C. – Mainly Pinot Bianco with 10% Chardonnay and 10% Picolit – On the nose very light and dry with hints of pineapple. In the mouth: caramel, granny smith apples, obviously oaked, very, very nice and smooth.  Love this wine!  Served with an amazing linguini pasta with lobster, delicious!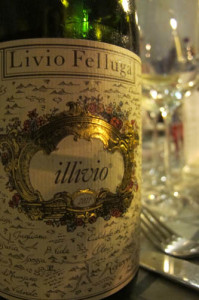 We had an breathtaking view of the town hall of Cortona and Piazza Repubblica from the outside dining area of the restaurant. With a glass of wine in hand, it made for a very lovely photo.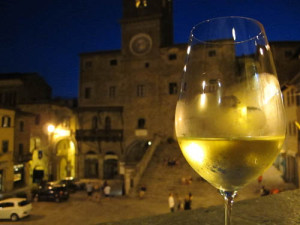 Vertigo 2011 IGT Delle Venezie 70% Merlot, 30% Cabernet- Tart, red berries on the nose, graphite and quote of the night "Animal -Def leppard style, not muppet style", stable, with slight blueberry, In the mouth: very red berries, some leather, bright, bitter dark chocolate. Served with sea bass, a cannoli stuffed with oxtail and vegetables.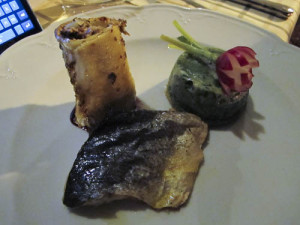 Quite the lovely line up!  Their label is quite particular, if you look closely all of the little writing is actually a map of the area/region that the grapes come from.
What a great night!  It really is a pleasure to have the opportunity to be at these tasting dinner, great pairings of wine and food and we are always meeting new friends with a shared love for wine.
We ended up staying out late drinking more amazing wine, enjoying a night out under the stars in Cortona!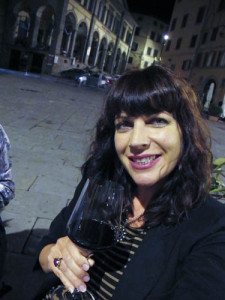 You know when the last bottle of the evening is a Tignanello, it was pretty much a rock-star kind of night!
Here's to great wine, great friends both new and old, and Italian wine!!!