Wine, Dine & Shine Vino Libero Progetto Dinner at Osteria del Teatro
This week's Wine, Shine & Dine event featured the Vino Libero Progetto, an enterprising project by Farinetti, also of the infamous Eataly. The project is composed of 12 wine producers fromall over Italy who have embraced Vino Libero's objectives which are to not use pesticides, chemicals, or excess sulfites in their wine.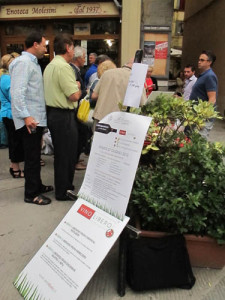 Vino Libero is pretty serious about their objectives, they even have a "manifesto" on their website clearly stating all of their ideas for their wines.  My favorite one…
 "Free to go down into the glass to donate emotion"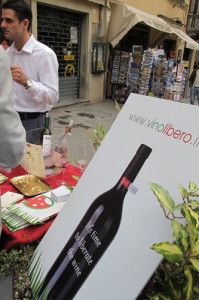 For the free tasting in the Piazza in front of the Molesini Wine Shop, we tasted the following wines which I've added some of my tasting notes to the two that really stood out to me:
Calatrasi & Miccichè Grillo 2012 IGT SICILIA – Light but very aromatic, delicate but with many flavors.  Very unusual but really nice.
 Le Vigne di Zamò Pinot Grigio 2012 DOC Colli Orientali del Friuli
Fontanafredda Barbera d'Alba DOC Raimonda 2012
Borgogno Langhe Nebbiolo DOC 2011
Mirafiore Barolo Paiagallo DOCG 2008 – Simply AMAZING!  Everything I ever hoped a Barolo could be from the nose to the last lingering flavor on my palette.  I'll definitely be buying some bottles of this.
The tasting dinner was held at the popular
Osteria del Teatro
, who somehow have managed to constantly outdo themselves at every wine dinner, and tonight was no exception!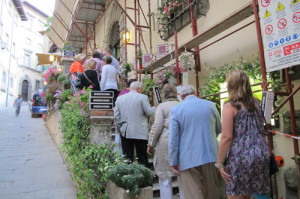 The event was sold out and it took a while for everyone to slowly file into the restaurant and be seated.  BUT, not to worry, as the first wine of the evening was being poured to those patiently waiting for everyone else to arrive.
Once everyone was seated the introductions began with the chef Emiliano explaining each of the dishes and Alesso from Vino Libero Progetto said a few things about the wine "project".
And soon we began with the first antipasto of the night…
Contessa Rosa Riserva Brut Alta Langa DOCG – My first time every having a white wine made like champagne that contained drops of very old red barolo wine from 1967.  On the nose, very light.  In the mouth, very delicate, slightly fruity and slightly bright. Pinot Nero and Chardonnay aged for 36 months. Served with a oven baked onion with breadcrumbs and pecorino.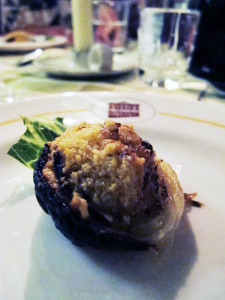 The next wine was…
Pradalupo Roero Arneis 2012 DOCG – Served slightly warm, a red grape vintified like a white.  Very aromatic, smells almost like a classic Sauvignon Blanc on the nose, fragrant with a slightly flowery taste.  In the mouth Pineapple, some slight greenness, cloves and a slight spiciness. Served with zucchini flowers stuffed with ricotta and basil on a puree of zucchini with mint.
La Lepre Dolcetto di Diano d'Alba 2012 DOCG – very easy red wine, fresh and fruity. All-spice on the nose. In the mouth, red dry fruit, slight blueberries, well rounded, bitter dark chocolate, slightly raisiny. Served with "choke the priest" pasta with cinta senesi and candied tomatoes. Paired absolutely perfectly with the wine, made the wine slightly less fruity and more elegant.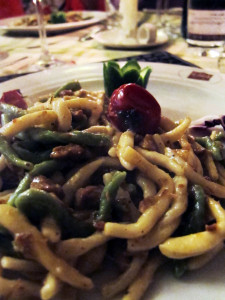 Casa E. di Mirafiore Barolo – 2007 – A very important vintage in Piemonte wine critics who have said that 2007 is one of the best vintages ever made in last 20 years. On the nose – meat, eucalyptus, red liquorish, herbaceous and minty. In the mouth – a minty aftertaste, plum, a little oaky, dry red berries, tanins, slight lavendar, bitter dark chocolate, very persistent. As tasted with the meat, chalky, dark berry flavors like blackberry and blueberry are more prevalent. Served with rack of chianina beef with Tuscan herbs and porcini mushrooms. One word, delicious!!!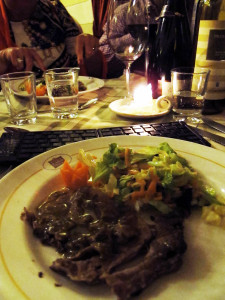 The chef, Emiliano, showing off his big "rack" of Chianina!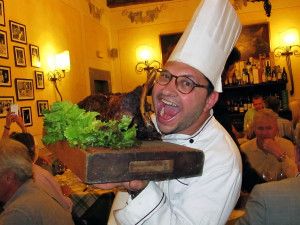 For dessert we had something really different.
Barolo Chinato Borgogno – with added sugar, more alcohol and aromatic spices. Red grapes, very old recipe. Tasted like a sweet spice box! Similar to red vin santo but with bitter spices. Smelled like a fruit cake.  Served with chocolate pudding.
Yet another fabulous night and another outstanding wine pairing, complimenti to Osteria del Teatro!!!