Terreno Petite Verdot & from Chianti!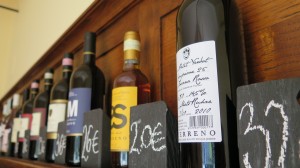 Even as I read the title of this blog post I am taken aback. Petit Verdot from Chianti? 100% AND barrel aged? What, what???
Interestingly enough I discovered this Petit Verdot at the Chianti Classico Collection 2014 event in Florence. Terreno was there with their Chianti wines and just happened to be pouring tastes of their unique Petit Verdot. It was downright startling after tasting all of the different Chianti but then after my next sip I realized just how amazing this wine is!
I had to have my own bottle…perhaps more than just one.
Road trip!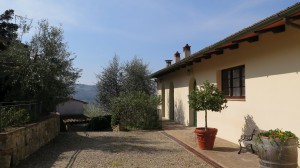 Azienda Agricola Terreno is located in the heart of the Chianti region, just outside of Greve in Chianti in the beautiful but rugged rolling hills that are so indicative of the Chianti region.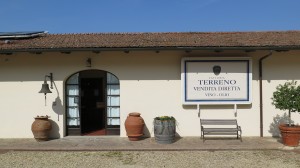 Interesting enough the Azienda is owned by a Swedish family who bought the estate in 1988 and with the help of Italian consultants have worked very hard to make good quality wines. From their website I learned that they have a wine bar in Stockholm and seem to be predominantly marketing to the Swedish market. I initially tried emailing them a few times to schedule a tasting visit with no response but by calling they were more than happy to give me a tasting appointment.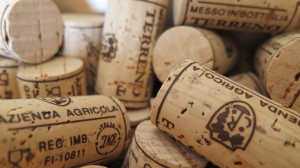 The Terreno winery makes 10 different wines as well as olive oil and grappa. Their wines of course include the typical Chianti Classico DOCG & Riserva, which are good, but I was here for something a bit less typical, especially for the Chianti region.
As usual I was impressed most by their very non-typical wines. But then again, I always like the unusual, especially when it comes to wine. For me there were two standouts…
2010 Terreno Petit Verdot – 100% estate grown Petit Verdot, only 1250 bottles made from a small vineyard planted in 2007. Very small berries with intense flavor make a long fermentation in stainless steel tanks. Aged in new french oak barrels for 15-20 months
On the nose: Dusty notes of blueberries, dark chocolate, cassis, raspberry, graphite, violets.
In the mouth: Big tannins, leather, chalky with notes of candied orange, deep blueberry and blackberries, black cherry, dried cranberry, bitter dark chocolate, black pepper, meat, slight saltiness with a very long finish.
Huge and intense this bad girl (because of course Petit Verdot is female!) could be laid down for a good 5-10 years. Decanted it is tasting pretty good right now but you can see the potential. VERY jammy and big, it appeals to all my taste buds. Mine!
But that's not all – Terreno had another wine that really surprised me and made me take a closer look.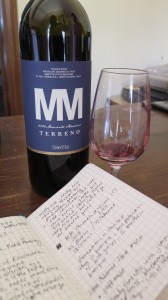 2008 Terreno MM Momento Massimo IGT – 48% Merlot, 48% Cabernet & 2% Colorino, this wine is only made in very good years and from the very best grapes. It is fermented in stainless steel and then barrel aged in French oak for 15 months.
On the nose: Soft with hints of dark berries, leather, coffee and bitter chocolate.
In the mouth: Jammy with deep fruits, blueberry, blackberry, chalky, notes of liquorice, cherries and big tannins. Another really fantastic wine.
And………..I'm impressed. I think both these wines need some time to refine with age but they both are tasting nicely even now, big and chewy and very yummy. I know I'll be sneaking out a bottle from my collection here and there!